Player Profile: Andrea Bustillos
By JACOB MONROY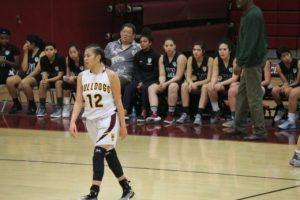 Andrea Bustillos is now in her senior season of varsity girls basketball and plays a crucial role for the team with her veteran leadership and commitment. The 17-year-old small forward is a poised athlete and displays her skills on the court. Leading the team to a 6-3 start to the season, there is definitely more in store for Bustillos and the Lady Bulldogs.
"We recently got second place in the Duarte tournament. One of the biggest accomplishments we have made so far would have to be beating one of the best teams in the valley, Duarte High School, 50-47," Bustillos said.
The ideal goal for the Lady Bulldogs is to end up as first place in the Hacienda League, but this isn't going to be the easiest task. However, with the potential of the whole team and leadership of Bustillos, it is a high possibility.
Bustillos is all about chemistry and believes deeply in bonding with the squad. Since it is her last year on the varsity team, Bustillos knows exactly what it takes to build up good chemistry to win ball games.
"I really enjoy the connection and chemistry my team and I share not only on the court, but off the court as well. Having a team that is so close makes not only practices, but the whole basketball season in general so much more enjoyable," Bustillos said.
Practice is something that Bustillos takes very seriously. It's obvious that a philosophy Bustillos believes in is "practice makes perfect".
"Most practices are fairly easy, but the ones that are a little bit more challenging really make us push each other to get better so that we play better in games," Bustillos said.
The talented two year varsity player has come a long way. She has been playing ball since only the age of 4. Her dad is the biggest inspiration for why she loves the game of basketball.
Bustillos continues to showcase her skills throughout her last year of high school. College ball is without a doubt a viable option for the hardworking forward.
"Playing in college is something I would like to do. Azusa Pacific University would be the ideal college I would love to play for," Bustillos said.