Player Profile: Shannon Lo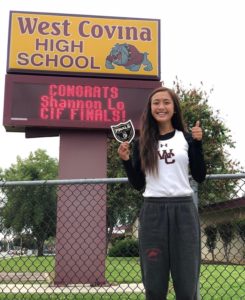 BY ALYSIA VELASQUEZ
CIF finalist Shannon Lo, has been on the track and field team for two years. In those two years, she has been working hard toward making it to CIF by attending practice and staying consistent in bettering herself in the sport.
She has dedicated herself to this sport immensely by attending multiple practices since she participates in more than one event. "I do the hundred meter, the four by one relay, longs jumps, and triple jumps," Lo said.
However, Lo did not achieve victory alone. "My coaches helped me out with the little things a lot and made sure I'm always on track with where I need to be," Lo said. This proves that victories are not always won alone; an exceptional team is essential.
Lo has always planned and worked hard toward making it to CIF. "Last year I barely missed the qualification by seconds. It was really important to me, especially because it's my senior year," Lo said.
"I actually doubted myself every single meet, but I got through it by not thinking about it. I just think of where I want to get. I also talked to my coaches a lot, so it made me feel better," Lo said. Despite the doubt, Lo pushed through and was rewarded in the end.
To any student who is new in a sport and is struggling with getting where they want to be, "always show up to practice don't miss anything. You can't expect to get better if you miss something. Always set a goal. If you don't set a goal, then you don't really have an idea of where you'd like to be," Lo said.