Game, Set, Match! With Teresa Falcon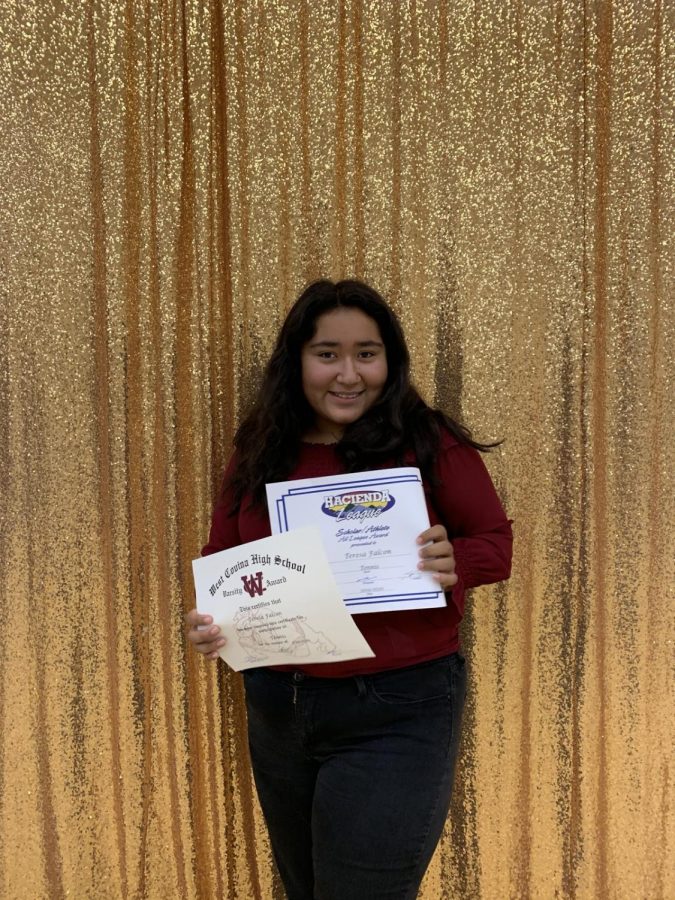 Whether she's at practice or competing against other schools, she always leaves her heart on the court. 
Senior Teresa Falcon is a current player on the Varsity tennis team. Prior to securing her spot, she had some experience before joining the team. Falcon mentions how she played tennis during her childhood for two years before moving to West Covina. The student-athlete joined the Varsity team during her sophomore year, and only progressed from there.
To assimilate to the pandemic affecting school life, Falcon has also had to readjust to make tennis fit into her schedule. Teresa explains how it wasn't hard to readjust her schedule, as she "has time to get ready for practice" rather than the struggle athletes know all too well of carrying the equipment at school. However, Falcon mentions that she had to readjust the time she eats. To prepare, Falcon says that she needs to eat "at least two hours before practice" to have enough energy. She finishes by drinking a protein shake after a long day balancing school and being on the tennis court.
Falcon's favorite part of being on the team and playing tennis is "one hundred percent, it's the people". Teresa recalls her first year of tennis and how welcoming all the players were.
 "It was my first year of tennis… I was very scared because I was the only sophomore on the team"
She then goes on to say how all the upperclassmen on the team helped her become a better player, and how it made tennis twice as fun. Teresa exclaims how "you get to bond with your team since it's a bit smaller".
As a third year player on Varsity, Teresa advises new players how people do not have to be professionals or have any experience in playing tennis. She hopes that people will not be so intimidated and seize their opportunity in joining the sport.
"Even the pros that we hear about today didn't know how to play tennis at some point in their lives…it challenges you physically and mentally". 
Leave a Comment