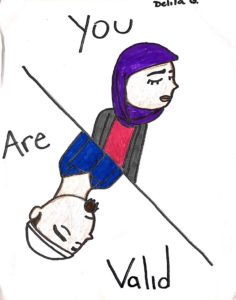 BY DELILA GRUBAUGH
A Muslim is a person who follows the Islamic religion. Islam is the third most followed religion in the United States and the second most followed religion in the U.K.  
Most Muslims in the U.K. live in England (there's more than 2 million).  With such a large following, you would think the U.K. is really accepting of the religion, right? Not necessarily. As a matter of fact, there's currently a violent campaign against Muslims going around  known as "Punish a Muslim Day."
The campaign or "sadistic challenge" was introduced when anonymous letters were mysteriously sent to homes in England. Although the letters were mostly sent to East London, the "challenge" quickly became a trending topic on social media. All across Instagram and Twitter people have posted photos of threatening letters towards Muslims.
The letters explained that the challenge is supposed to start on April 3 and includes a point system: 25 points for pulling off a hijab, 50 points for throwing acid, 500 points for murder, and 1,000 points for bombing a mosque. Due to all the fear that has risen in Muslim communities, Muslim families were given safety manuals in the case that they will need to act in self defense. 
I find this trend absolutely atrocious and personally worthy of reporting. I may not be a Muslim myself, but one of my best friends is. Some may ask why I care so much even though it's in the U.K. and my answer is this; I don't want this anti-Muslim sentiment to make its way into America. No one should be targeted because of their religion and the First Amendment stripped from them causing them to  be afraid to openly express themselves and their beliefs.
In America, Muslims are still sometimes wrongfully stereotyped as "terrorists."Here's what I have to say; Those people were murderers, not Muslims. In my opinion, I think Muslim beliefs are some of the most peaceful beliefs. The word "Islam" even translates to "surrender or peace."As a matter of fact, a part of the holiday Ramadan is to forgive people and to stay humble.
As I mentioned earlier, I have a friend who is Muslim and when I introduce her or talk about her, I don't ever call her "the Muslim girl." Why? Because the first thing she is, is human. She has a beating heart, a brain, and blood pumping through her veins just like you and I. It's true that her religion is a huge part of her identity, but it doesn't define her. In addition to being Muslim, she's also a daughter, a sister, an activist, and an incredibly great friend; so why would I just say she's "the Muslim girl"? And the rest of her family is just like her. They're all Muslim, but they're also one of the most welcoming and loving families I know. They are very genuine and wouldn't hurt a fly and are nothing like those ugly stereotypes.
This may seem more cursed than anything, but luckily in response to "Punish a Muslim Day," "Love a Muslim Day" was created. It also is a challenge that is to take place on April 3 and includes a point system as well which includes things from as simple as  10 points for smiling at a Muslim to more philanthropic things that are worth 1,000 points like donating and fundraising for the needy in predominantly Muslim countries.
I hope that "Love a Muslim Day" trends more and is able to give Muslims a sense of security.