Volleyball Kills It Again
BY JOCELYN MENDOZA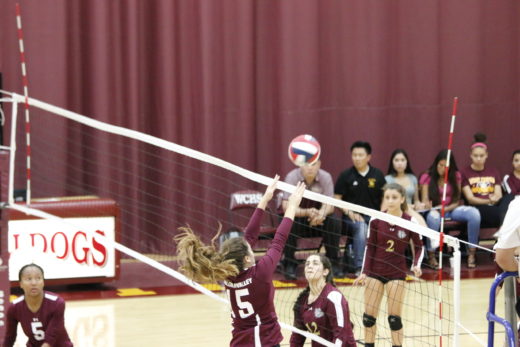 The varsity girls volleyball team has made it to CIF and won their first round against Paloma Valley 3-2 on Tuesday, Nov. 1 in the WCHS gym.
At the beginning of the game, the Lady Bulldogs were falling short and lost the first two sets. However, they bounced back up in the third set and worked together to win three sets in a row, overall winning the tough game.
Throughout the season, the team has won and lost some games; but after each loss, the girls would fight even harder to win the next. With their efforts, the Lady Bulldogs have taken second place in the Hacienda league with a record of 6-4 and 16-10 overall.
"We are not a very strong team in our league, but we did our best and that's why we finished in second place,"  Coach Hua Li said.
Volleyball is a sport that depends on teamwork: the better the communication, the greater chance they have at winning. This season, the varsity team consisted of almost all non-returning players and a new coach; yet, the girls were able to develop a close bond and work efficiently as a team to win many games.
"They did really good for their first year; our varsity team is very new – we only have two varsity returning girls," Coach Li said. "They did very well for this season. They worked hard and played smart."
The team is even more excited to play in the competition after winning the first round; together, they plan to enjoy CIF and dominate the court with hard work, spirit, and teamwork.
"The CIF games will be very tough. We'll just enjoy the game, learn some different things, and learn from the experience of playing the higher levels," Coach Li said.