Player Profile: Adriana Romero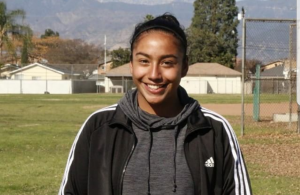 BY CODY TORRES
Have you seen how Adriana Romero plays soccer yet? Freshman Adriana Romero, also known as "General", plays for the girls varsity soccer team here at WCHS. As of right now, this is her first year playing soccer for high school.
Romero has been playing soccer since she was 5 years old. She has always had a love and joy for the sport. Even though society told her about the negatives of soccer; it didn't stop her. She is always motivated to play and help the WCHS girls soccer team achieve victory.
"I was told that soccer was a man's sport and that girls shouldn't be playing it because it is too rough. That didn't stop me," Romero said.
From this time on, Romero wants to play soccer after high school. She hopes that soccer will be her future career. Romero is always working hard to get the best.
"As a matter or fact, soccer will hopefully be my career and future. I will make every effort to succeed," Romero said. 
Romero is a warm hearted, friendly, and generous person who makes everyone feel welcomed. She is an inspiring teammate who treats everyone with respect.