Player Profile: Juan Lopez
BY ISABEL PEREZ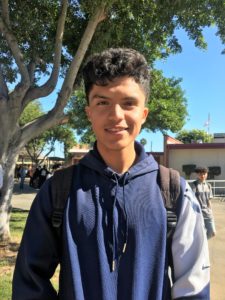 Juan Lopez has been on the boys varsity soccer team all four years of high school and has continuously shown tremendous improvement. Lopez started playing soccer thirteen years ago because his dad forced him into it, but he soon fell in love with the sport.
"I play center back or any defensive position because I love the adrenaline rush I get when I run into players and tackle them for the ball," Lopez said.
Over his years playing for WCHS, Lopez was showed by the previous players what it is like to be a captain and the kind of responsibilities they have. He learned that they always have to motivate their players and he took those tips when he was titled head captain his senior year.
"Being captain is a really fun experience. All the kids look up to me so I just try to be a role model for them," Lopez said.
Lopez is known for his famous slide tackles and free kicks. He continuously shows that he is not afraid of physical contact in the sport and will do everything he can to save a goal for his team. Considering he has played with the team for four years, they have all become really close and Lopez emphasizes how much he is going to miss the experience.
"I am going to miss the practices, hanging out with my friends, and the coaching staff. My favorite memory was getting pulled up from JV my freshmen year and playing that first game," Lopez said.
The entire team respects Lopez's style of playing and how he uses his role as captain. The other players really look up to Lopez and listen to his advice because they believe he has the right knowledge to improve the boys' soccer team.
"I love Juan's leadership and passion for the game. He is always wanting to help others improve," teammate Julian Reyes said.
Not only the team recognizes Lopez's love for the game, but the head coach as well. Coach Anthony Hernandez chose Lopez as captain because he shows maturity and dealt with different situations very well during intense games.
"In the four years I have been here I have seen Juan improve drastically and you can see the passion he plays with during every game," Hernandez said.
Lopez has been a big part of the boys' soccer team over and he has definitely proved himself to be a star player over the past few years.