Player Profile: Isabella Lugo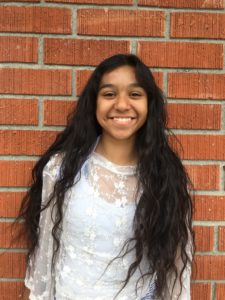 BY DANIEL GASTELUM
Isabella Lugo was on the JV wrestling team, and even though she loved it so much, she had to let it go. Isabella is a freshmen that has found a love for wrestling. In a match, a girl slammed her to the ground and broke her collarbone. Lugo unfortunately had to forfeit and take the season off to heal the collarbone.
"I plan to go back to wrestling during the summer," Lugo said.
Although she broke her collarbone, she found a bond with wrestling and hopes she'll return to it soon. Lugo has really enjoyed wrestling and wants to continue in wrestling through her entire high school career.
"I like that wrestling is super competitive and the training for it pushes you to your boundaries. It teaches you not only to be a better wrestler, but also a better person," Lugo said.
Isabella has really enjoyed her time with the team and can't want to go back on the mat. Even though she's taking Honors classes, she still finds time for wrestling. After all, Lugo's brother Alex was also in wrestling and wanted to pass it on to his sister. Isabella hopes to follow in her brother's footsteps.
"My brother inspired and encouraged me to do wrestling. I plan to do it my whole high school career," Lugo said.
After everything Isabelle has gone through, she still has one particular match that was her favorite.
"My favorite match was the one where I broke my collarbone because even though I broke my collarbone and had to forfeit, I didn't give up and made it to the bottom of the second with eight points. I know this experience will only make me stronger," Lugo said.