Player Profile: Nikki Thompson
BY CODY TORRES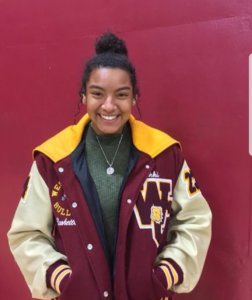 You may ask "Who is Nikki Thompson?" Nikki Thompson, 15, is a sophomore who has been playing on the girls varsity basketball team for two years. Thompson has been playing on the varsity team since her freshmen year.
The lady Bulldog has been playing basketball since she was very young. What helped motivated her was her family. Most of her family has played basketball, such as her mother and father. She  has always had a passion for the sport.
"I was 8 years old when I started to play. When I was introduced to the sport, I loved it. Getting to score baskets and playing defense has always made me eager to play," Thompson said
As of now, she plans to play basketball in her future. She always balance out her grades with the sport. Her main goal is to get a scholarship.
"The moment I stepped into WCHS, one of my main goals is to earn a scholarship. So I can play basketball further on and continue on with my future," Thompson said.
Nikki Thompson is a kind person to her friends, teammates, strangers, etc. She is a caring person and is always willing to listen.
"Nikki is someone who is dedicated to everything that she strives to have a passion for. As a teammate, Nikki is very helpful and motivating. She is determined to get anything done in order to reach her goals," freshman Olivia Covarrubias said.