California State University applications opened on Oct. 1, leaving many seniors stressed with the impending Nov. 30 deadlines. Students have access to the College and Career Center to provide support to students applying to college. Students have been pointed by advisors to the College and Career Center on campus to receive resources necessary to make educated decisions and accurately complete applications. 
Many students voiced reluctance to visit the Center. Senior Yesenia Munoz shared that she felt put off by the environment cultivated by college advisor Tom Nguyen. As a first-generation college student, she feels that it is especially important to have college advisors on campus to advise other first-generation students. When entering the center during her 5th period, Nguyen asked her to leave and come back at a later time. Munoz, feeling unprepared with applications, wanted the guidance during 5th period in order to fit into her busy schedule, despite having a class. After this experience, Munoz shared that she felt unwelcomed unless she was called in personally.
"It kinda felt like I couldn't just go in on my own," Munoz said.
This experience highlights the unrealistic standards students are placing on the College and Career Center, choosing to not abide by school rules. Like any other room on campus, it is necessary to communicate a student's whereabouts not only for accountability of the student but also for safety precautions. Using a Minga hall pass is the standard when leaving during a class period, with a trip to the College and Career Center being no exception.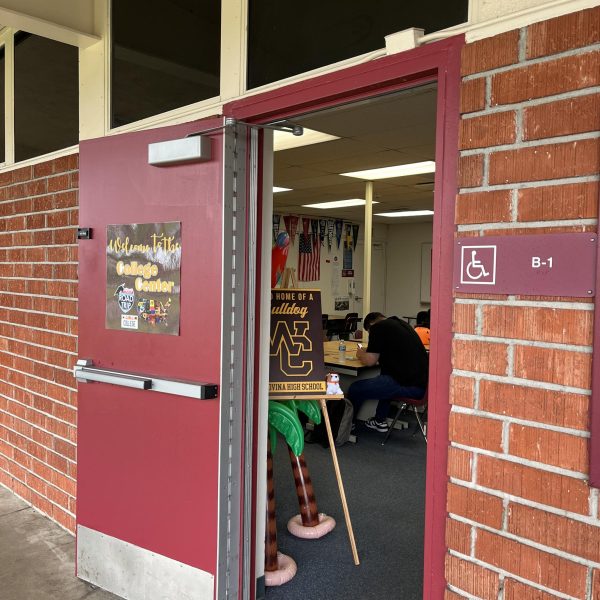 "If a student comes to my classroom and they're not excused by their teacher I usually send them straight to their classroom, " said Nguyen.
With deadlines approaching, it is vital that students not only are given opportunities to go to the Center but also be welcomed into this new environment. Students benefit from having a safe space to ask questions and be encouraged to pursue further education. Despite these negative encounters with Nguyen, many students still believe that having him on campus is a good resource. 
"I think it's important that they're here to like help us out with like applying or just like feed us with information that we don't know," Munoz said.
Nguyen understands that applying to college can be a stressful experience that causes emotions to intensify. He takes accountability for his actions and wants students to understand that he once was in their shoes applying to college and wants to help them succeed.
"I know myself as a person. I definitely can work on many things from my facial expressions to maybe how I say things, the tone of my voice or to the wording I use. but when it comes college I'm very straightforward because its very logistical," Nguyen said.
Nguyen explained he is here to help students in a professional manner. Although Nguyen's pointed criticism can catch students off guard, it is vital students understand he is here to help.
"I hope that students, those who are definitely afraid or intimidated to come by me understand that I don't come from a place of malicious," Nguyen said.
First-generation college applicant Myla Rin shared a unique experience she had in the center. Rin, with friends, went to pick up a permission slip for a UC representative meeting. When she asked Nguyen for a permission slip she was turned away, with him stating she did not have the GPA or eligibility to attend. From this interaction, Rin became discouraged, increasing her anxieties about the college application process.
"Personally I don't feel comfortable contacting him with the way the first interaction went and kinda like the energy I was like given from him. Just because I felt like I wasn't really good enough to apply to anywhere after that," said Rin.
At the beginning of the school year, advisors decided that only seniors eligible to apply to UC schools would be able to attend the meeting. This caused many students like Rin to become disheartened. Hearing the feedback, Nguyen decided to take action, now allowing all students the opportunity to pick up permission slips for these college representative meetings.
"I eventually had another talk with the advisors because a lot of students have came to me with this issue saying oh I feel like I was put down, I wasn't given the opportunity, " said Nguyen.
The culmination of the negative experiences in the College and Career Center has left many students with a pessimistic impression on this vital resource. With the seeming majority of students being first-generation applicants, it is important to recognize that miscommunications have caused the College and Career Center to be stigmatized. Nguyen, eager to help students, is available during nutrition, lunch, and after school to help guide any students who have concerns or questions regarding their post-high school plans.