Farewell Vin
 BY ELIJAH LEON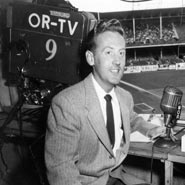 When you think of the Dodgers you think of a couple things: baseball, the color blue, Los Angeles, and of course, Vin Scully. Vin Scully has had a connection to the Dodgers ever since he started his legacy in 1950. He has not only impacted Dodger fans but he has impacted everyone who watches the game of baseball. He is a huge figure in the world of baseball especially to anyone who bleeds Dodger blue. He is not only the voice of Dodger baseball but all of baseball.
Sixty-seven seasons with the Dodgers was nothing less than amazing; he has shown his loyalty to Los Angeles, The Dodgers, and baseball. He is by far the longest baseball broadcaster in sports history and is definitely one of the best. He has been with the Dodgers since they were in Brooklyn, he followed them to Los Angeles in 1958 and has been here ever since.
Vin Scully has been such a great broadcaster because he has a passion for what he did, you can hear it in his voice, when he says "it's time for Dodger baseball" you can hear that he simply loves the game of baseball. His passion is not the only thing people love about him though. Vin's iconic voice is something else; he has a such a soothing voice that captures your full attention. When Vin is commentating, he does not only talk about the Dodgers game, he will also take the game of baseball and turn it into a life lesson. He has so much wisdom and life experiences that he shares with his audience to make these games more than just a simple baseball game.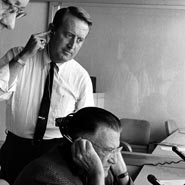 Official Vin Scully website
This year, the 2016 season was Vin Scully's last year. On September 25, 2016 he broadcasted his last Dodger home game, and it was a day that millions of people will never forget. Even though Vin Scully has retired, he will never be forgotten, he has left his mark not only on the game of baseball but the entire world and his legacy will live on forever.  He said his goodbyes to us on his last broadcast:,"You and I have been friends for a long time, but I know in my heart that I've always needed you more than you've needed me, and I'll miss our time together more than I can say. But you know what? There will be a new day and eventually a new year. And when the upcoming winter gives way to spring, rest assured, once again it will be "time for Dodger baseball." "So this is Vin Scully wishing you a very pleasant good afternoon, wherever you may be." So from us to you, Vin, farewell.