Super Bowl XLI predictions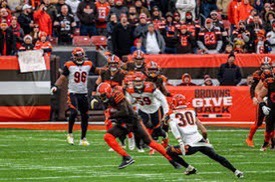 This year's Super Bowl is an unexpected matchup between the Cincinnati Bengals and the L.A. Rams. The Rams have been to the Super Bowl somewhat recently, this being four years ago. After a clutch win or go home situation against the Chiefs, the Bengals have advanced to the Super Bowl for the first time since 1989. 
The Rams will win Super Bowl XLI.
The Bengals are going to have a tough time playing against the Rams because statistically, the Rams are a better team in all three phases of the game: special teams, offense, and defense. 
The Bengals biggest disadvantage is their offensive line. The Bengals O-line has struggled to block almost every defensive line they have played all season. With that in mind, you're probably asking yourself then how they are in the Super Bowl. The Bengals' quarterback Joe Burrow and star rookie wide receiver Ja´mar Chase have outstanding chemistry. 
"Whenever I get pressure from the defense, sometimes I just throw it because the chase is out there somewhere," Burrow said in a post-game interview. The Bengals also do not have any stand out defensive players.
The Rams' biggest disadvantage is them coming into the game and underestimating the Bengals. The Rams' biggest advantage is their star defensive tackle Aaron Donald. Donald is a 3x defensive player of the year. The Rams also have Von Miller, a veteran linebacker who formerly played for the Broncos. Along with Jaylen Ramsey, a defensive back feared by most quarterbacks because of his insane ability to leap and snatch the ball out of the air.  
On offense, the Rams have two of the best receivers in the league, Odell Beckham Jr. and Cooper Kupp, who are matched with a quarterback with crazy vision and trust in his teammates. I think the game will be a high scoring game with the Bengals behind the whole time.