From high school to new horizons: Decision Day '23 commemorates seniors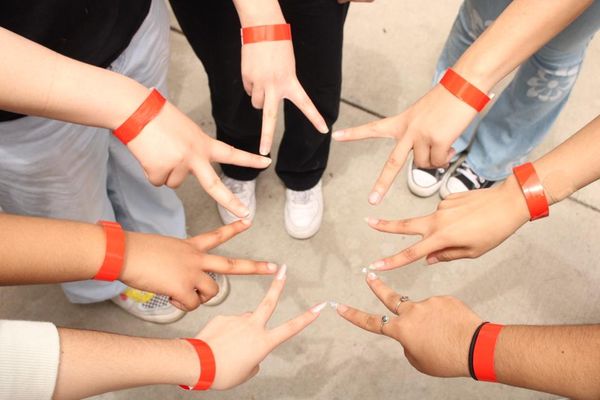 College center advisors Juan Ochoa and Cathy Kwon hosted Decision Day, a senior-exclusive event, yesterday in the quad. It was a tropical-themed event to recognize seniors for their transition out of high school as they count down their final days.
Ochoa, based on his communication with students and counselors, shared an observed decrease in student dropouts and an increase in students seeking 4-year college after graduation. Ochoa commented on the estimated statistics of seniors going to community college versus four year colleges. 
 "I would say 50/50, 50 are looking at four years and 50 community college, but I would lean a little more to the community college (than) the four years," said Ochoa. 
Considering the competitive nature of this year's application process to schools like UCLA, whose acceptance rate dropped to 9% this year, according to life planning website Collegevine, students' ambition left the college counselors gratified. 
"You all worked so hard this year and I'm really really proud of you," said Ochoa.
Not only to celebrate those pursuing higher education directly out of high school, decision day aimed to honor all graduating seniors as they make the most of their first major life decision. Whether that be continuing their education, joining the workforce, joining the military, or taking a gap year, decision day reiterates that no matter what path students embark on they have the support of their alma mater. 
"I think it's really wholesome having an event where like all the seniors regardless of where they're going or what they're doing in the future can celebrate," said senior Phuong Ho. 
For lunch, the college advisors provided free Costco pizza, a choice of dessert from Portos or Jollibee, and a bag of chips with a voucher for a fast food location. Alongside the food, there were three activities that rewarded raffle tickets for the event's finale– raffle. The events consisted of paper graduation caps that seniors would decorate, a revolving 360-camera photo booth, and a spinning wheel with many raffle tickets. Prizes included Raising Cane's gift basket, LED lights, lamps, a Beat headphone, portable chargers, an iPad, a Polaroid camera, an air fryer, a blender, class merchandise, and a mini-refrigerator. 
The collective effort of the school's college advisors, counselors, ASB, Renaissance, staff, teachers, and student volunteers all contributed to a successful celebration for those who have completed their 13 years of education. 
With prom quickly approaching as one of the seniors' final events, these students inch closer to the end of the school year. Congratulations to those graduating on making their decisions for the future and best of luck.