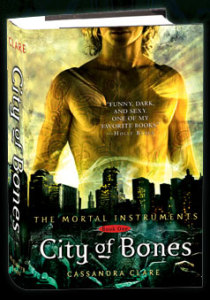 BY BRIANNA MENDEZ/PHOTO COURTESY OF SHADOWHUNTERS.COM
For a year now, Librarian Fran Karmann from the school library has been choosing one book every month to showcase for students to read. This particular book is put out as a recommendation to students, that they might possibly end up liking.
This month the book chosen was City Of Bones by Cassandra Clare, which comes from The Mortal Instruments series. The genre of this book leans towards fantasy fiction aspects.
"I like this book a lot. It was a mixture of different elements from all the books I like to read; the story is a real page turner especially, since I'm an avid reader," said staff member Robert Sanchez.
This book is recommended for all students, especially to those who were interested in the Twilight series, because it has the same suspense that catches the reader's attention.
This is the first year that they have spotlighted the books, and once they have been picked and put out on display, they tend to go fast. Each book that is chosen once a month. These books tend to get a good review and really surprise the students and teachers, who read the books, at how well their interest was caught.
"These books help students escape their lives just by reading something new and interesting," said Karmann.