NEHS March Book Review: As I Lay Dying by William Faulkner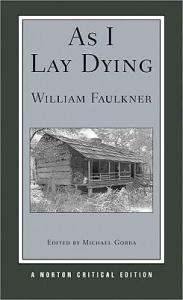 BY ADELAIDE TRAN, GUEST WRITER
If the title, As I Lay Dying wasn't morbid enough, the contents of this novel will shock you even more. As I Lay Dying by William Faulkner is a novel centered on the death of the Bundren family's mother and their trek across the Mississippi Valley to fulfill her last wish to bury her in her hometown, Jefferson. You would think a family journey would make for bonding and insight, but the problems this family encounters are far from enlightening.
The novel itself is written through the perspectives of different characters. The different sections are told by each of Addie's children, Darl, Cash, Jewel, Dewey Dell, and Vardaman. Each character's personality in the story is clearly represented through their recollections and actions. Darl, is presented as the most sound of mind, with unexplained prophetic abilities in which multiple times he is able to recount events he isn't present to witness. Cash, another son, is enraptured as a carpenter and entirely devoted to the protection of his tools and craftsmanship. Jewel was Addie's favorite child and devoted to his horse, and almost hateful of his family. Dewey Dell the only daughter was shaped to be the object of misogynistic cruelty. Finally, Vardaman, the youngest son, believes his mother to be a fish. Each child typically represents a unique personality, representing their different means of coping with death.
The setting is in the American countryside and it provides a basic background for the less educated and ridiculous actions the members of the family take. I had a hard time reading this book and not questioning the logic that these characters found in justifying their actions. The main reason the family never turns back even when something devastatingly terrible occurs is because Addie's husband, Anse Bundren, is relentless in fulfilling his promise to bury her at Jefferson, even at the expense of his children's pain.
Faulkner criticizes the family dysfunction and loveless actions continuously throughout the novel. Anse Bundren is the selfish father with no grief for his late wife, and no concern for the welfare of his children. The children themselves have their individual problems they are unable to overcome alone, but refuse to seek help from others. After continuously reading through each character's view, you grow an attachment to wish them better luck, but don't be surprised when they don't.
Overall, As I Lay Dying does everything to describe the cynic's view of life. Each character's depictions of events describe their personal reactions and coping methods for dealing with their mother's death. The problems the Bundrens' face are cruel and truly heartbreaking. I found myself reading with shock, trying to comprehend the horrendous events, but only scratching the surface. Faulkner packs the novel with layers of symbolism, that are extremely difficult to catch on the first reading, however, it's deep analysis of each character's state of mind does not detract from the intensity of the story. Overall, I recommend As I Lay Dying to be an excellent read, especially to those who love tragedy.