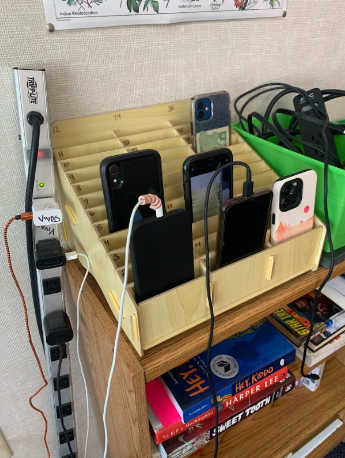 As phone usage becomes more common in the classroom, the issue of them causing a distraction has become more prevalent. As a solution to phone-related distractions, phone holders, typically referred to as phone jails, have been implemented in some classrooms.
"Before using phone stadiums, phones distracting kids in classrooms was a big issue that I had," said math teacher Sifat Khan, who teaches sophomores, juniors and seniors.
Despite the ways teachers use them – taking phones away from every student at the beginning of class or those who use them excessively, they generally have the same goal of keeping phones away to minimize distractions. These methods have sparked criticism among students.
One way that students have criticized phone holders is how not everybody needs their phone taken away. Sophomore Saida Zapata believes that phone holders are unnecessary in classrooms.
"I don't think I should be made to do it, but if it gets to that point where I'm being immature and getting distracted then I think they have the right to confiscate it," said Zapata when asked about her opinion on phone holders.
Another criticism that students have is that not having their phones in their possession is stressful.
"In general I just don't like not having my phone, even if I'm not using it. It's stressful to not have it on me in case of emergencies," said senior Abel Ortiz.
While students criticize the use of phone holders and typically see it more as a punishment, teachers who use phone holders have a different perspective.
Teachers such as Khan and English teacher Amanda Vivas believe that phone holders are neutral and should be seen as such.
"We need a neutral term for it. If we're coming in with this negative connotation then you're already put off and you don't want to do it," said Vivas.
As part of changing the student perspective on phone holders, teachers have suggested using a more neutral term for phone jails. For example, Khan uses the term "phone stadium" due to the shape that the phone holders are typically seen in.
Vivas takes a different approach with phone stadiums. She suggests that students put their phones in the phone stadiums, but rather than force them out of students, she sets the expectation of a phone-free zone.
"Either way it works out. Either they put their phone up or they're hiding it from me, which I don't mind. As long as I don't see it and as long as you're not on it," said Vivas.
As phones play a bigger role in modern life, it's important to recognize how it affects education as well. Phone stadiums should be reshaped as neutral objects to fit the needs of both students and teachers.