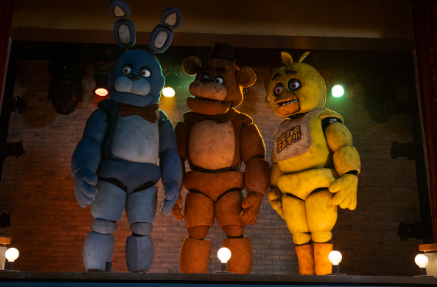 Five Nights at Freddy's, one of the most anticipated movies of the year, was released in theaters on Oct. 27, 2023. The horror film is based on the famous video game franchise created by Scott Cawthon, which was released on Aug. 8, 2014. Since then it has gained worldwide popularity leading to the adaptation of the movie. The movie focuses on Freddy Fazbear's Pizzeria, an abandoned family restaurant known for its singing animatronics and troubled security guard, Mike. During his first night, he realizes his job there might not be so easy. 
While the movie was given negative reviews from critics, the audience's reviews were mostly positive. With a budget of only $20 million, it was successful at the box office, grossing over $130.6 million and breaking box office records for the movie's production company, Blumhouse Productions. While the movie somewhat follows the first game closely, there were many changes noticed by fans that gave them mixed feelings about the plot of the movie and its characters. 
According to fans of the original game, the movie was only about halfway accurate and inconsistent with the story, making the film not live up to one's expectations. The movie mainly pays attention to Mike as he works at Freddy's Pizzeria, while the video game originally focuses on William Afton, a serial killer responsible for the murder of children and the founder of Freddy Fazbear's Pizzeria.
"The entire point of the game was that these kids went missing and that William Afton is a big killer, but then they try to make it all about Mike Schmidt and his sister and that has no relevance to the entire story at all," said senior Matthew Alvarez. 
In the cinema world, anticipation can be a double-edged sword. Five Nights at Freddy's was a film that many have eagerly awaited for years, and while it might not have fully satisfied people's expectations, the act of witnessing this highly anticipated work can be a unique experience in itself that audiences won't forget.