Taylor Swift, multimillionaire singer began her singing career when she released her self-titled album, "Taylor Swift" in 2006. Swift has been on the rise to fame ever since, causing her fan base to tremendously grow, especially with her international tour the 'Era's Tour' that pays tribute to all her released albums. The past months have been very eventful for Swifties (Taylor Swift's fan base) and many Travis Kelce fans. The two have been rumored to be a couple when tight end for the Kansas City Chiefs, Travis Kelce spoke about attending Swift's concert. Kelce had mentioned on his "New Heights" podcast that he made a friendship bracelet specifically with his number on it, and no not 87, but his actual phone number. 
"I think that was funny because he was up in a suite and was nowhere near Taylor, and I think that's how they met," said freshman Meilani Wallace.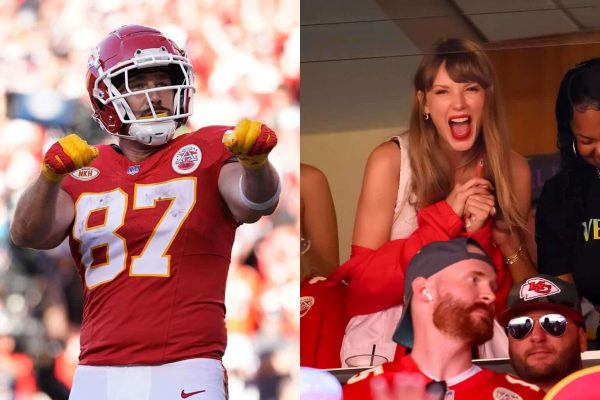 Sept. 24 was the first time Swift was seen supporting the Chiefs at Arrowhead Stadium in Kansas City. It began blowing up on social media when Swift was paneled on live television when she was seen in the audience sitting next to Kelce's mom, Donna Kelce. On every social media platform, such as Instagram, TikTok, X, users went wild. The Swiftie fan base, excited when seeing this encounter, began posting content and started to recognize who Kelce is and what he does professionally. As a result of Swift's attendance, Kelce's fame skyrocketed. That Sunday, Kelce became one of the top 5 selling NFL player jerseys. A nearly 400% spur in sales had been made. Talk about the power Swift and her fan base holds.
"I've never heard anything bad about him, but honestly, I didn't even know about him," said junior Grace Lorenger.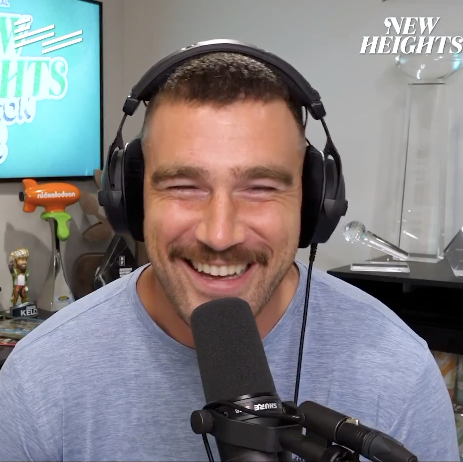 The "New Heights" podcast is a podcast that Kelce and his brother Jason Kelce share. A couple days after the game happened, Kelce's brother asked him how he felt about Swift putting Kelce on the map. Kelce laughed and explained how he knew what he was getting himself into when being seen with her, but he appreciated that Swift had come through to go and watch him play. A few days later after that episode had been released, another episode came out where Kelce said the NFL organization was overdoing it, when reacting to the whole situation. Media has been bringing this situation to many people's attention, and with Swift being an icon to the music industry, they took this very seriously and brought a lot of attention to the situation. 
"I think that since she is a really big celebrity, obviously everything is going to be brought to attention, especially that there is a new man involved," said Lorenger. 
As we come to know, the Swiftie community are fans who love to see the person they look up to in love as well as seeing them happy. Many would do anything to protect and support Swift's decision. 
"Taylor's fan base is super strong and I think that's because she makes it all so intimate with them, her fans give back to her by supporting whatever she is doing or whoever she is dating because Taylor goes all out for them," said Wallace.