West Covina High School welcomed Tom Nguyen as this year's new college advisor. In search of advice, while undergoing college stress or uncertainty, students can find Nguyen located in room B-1 ready to help.
Nguyen attended Edgewood High School in West Covina. While considering taking on the role of a mentor for seniors, Nguyen reflected on the impact his college advisor had on his path to success.
"When I was in high school I had a college advisor. I owe a lot to that individual for how far I made it into college," said Nguyen.
He graduated this past spring with a bachelor's in Psycho-biology from the University of California, Los Angeles (UCLA) and is taking this year to focus his time building his work experience. He aspires to pursue a career in therapy.
"My goal in life is to get my master's, get licensed, become a clinician then practice therapy," Nguyen said.
To get to where he is now, Nguyen worked hard and explained how his motivation derived from his upbringing, learning that in order to succeed one must learn to rely on one's self.
"I have to continue to push forward because I never want to hit rock bottom ever again…I do not have the luxury to fail," said Nguyen
Nguyen shared how he took advantage of college viewing it as a transitional period of his life and very eye-opening.
"College widened my perspective and made me realize there's so much more to do and see… college was a great opportunity for me to not only to pursue my education and higher my career but also to broaden my lifestyle," said Nguyen.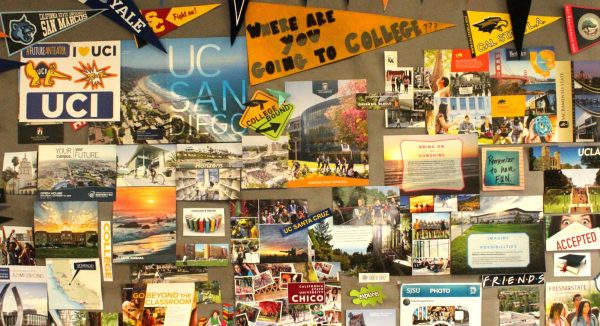 Nguyen leads with empathy while taking on the responsibility as a college advisor reassuring seniors to respect themselves during the overwhelming college application process as many get lost in the numerical aspect.
"There are so many people in this world that we are often categorized as digits, an ID number, GPA, even social security. When given the opportunity to speak for yourself, take it. Say 'Hi this is my name, this is the life I live, the things I've done'. You need to establish yourself as a human being with your own unique challenges and stories in this world," said Nguyen.
Therefore, as students feel the pressure to over-achieve in academics to have a chance on the increasingly competitive path to college, he gives seniors his best advice.
"Go in as a number, come out as a person," said Nguyen.
It's important to seek support during stressful times such as college applications and Nguyen is here to build relationships and guide the next generation of scholars. The College Center in B-1 is now open to students ready to begin a journey toward a life of success with our dedicated college advisors.