Rap musicians Drake and 21 Savage began their "It's All A Blur " tour on July 5 in Chicago, Illinois and is set to conclude on Oct. 9 in Columbus, Ohio. The iconic duo went on tour together to promote their first collaborative album "Her Loss." The two visited Southern California, and performed six shows in the area. On their Aug. 15 show, the setlist consisted of 46 songs at Kia Forum in Inglewood, Calif.
Drake spoke out of his excitement to perform in Los Angeles, and connected with everyone in the crowd. 
"You get the boujee crowd the first night. And then the second night, you get a more turnt up crowd. And the last night is the last night, but that third night is always special in LA," said Drake at the Aug. 15 concert.
Drake shocked fans at the beginning of each concert by opening with himself and a younger version of himself seated on a bed together on stage. There were many conspiracy theories about the child, as he looked exactly like Drake's younger self. Many thought he was a hologram, and rumors were even spread that the boy was some kind of "clone."
The audience, impressed by the creative opening, channeled their excitement into an energetic crowd. Being a part of such an energetic crowd was such an unforgettable experience. 
The visuals Drake used during his concerts were extremely unique and what made his concerts so good. Inflatable anime characters, spaceships, and a prop Ghostface floated around the stage during his songs. Each of the objects were so thoughtfully placed and each somehow connected to the song he was performing. 
During his performance, Drake interacted with all of his fans during his show, making them feel genuinely appreciated. As an avid concertgoer, some artists tend to not acknowledge the audience towards the back of the venue. Drake made an exciting and memorable experience for his fans, regardless of where they were sitting. 
The best moment of the concert was when Drake would talk to the audience in addition to performing his songs. He shared pieces of advice, memories, and made his audience laugh. It felt special being at that concert, as Drake shared how personal it was for him to be performing in L.A., as that is where some of his favorite memories took place. 
Drake connected deeply to fans who have loved his music since the beginning of his career. He repeatedly said during his concert that the songs he chose to perform were for his "day ones." Specific songs that got the crowd emotional were "Marvin's Room," "Look What You've Done", and "Teenage Fever."
While he was performing his older music, many girls in the venue cried. It was confusing, until it clicked that this was more than just a concert to some of his fans. Drake has been an artist that fans could rely on for years, so there is a level of intimacy when listening to someone for so long and finally having the chance to see them perform live. 
Everyone being emotional allowed fans to connect and be comfortable with one another. Strangers that sat next to each other connected because of Drake's performance. He encouraged fans to turn to one another and embrace each other to compliment one another. Being hugged by fellow fans made me appreciate Drake much more for encouraging this beautiful moment. 
Juelz Taylor, who attended the concert on Aug. 21 at Crypto.com Arena felt a deep connection to Drake as many of his songs are dedicated to his mother. 
"I feel like I kind of resonate a lot with him and the love he's had for his mom and his mom being there for him and his life," said Taylor. 
It was beautiful to have witnessed fans seeing their favorite artist perform. At many other concerts, many fans are focused on getting the perfect video for social media. However, during Drake's set, the audience was appreciating and being fully into the moment. 
One standout memory from the concert was the massive realistic Virgil Abloh Statue in the venue. Drake had a very close bond with the past designer, who passed away Nov. 28, 2021 at the age of 41 years old, due to a rare cancer that occurs in the heart. The statue is of Abloh throwing a paper airplane, referencing from the designer's first Louis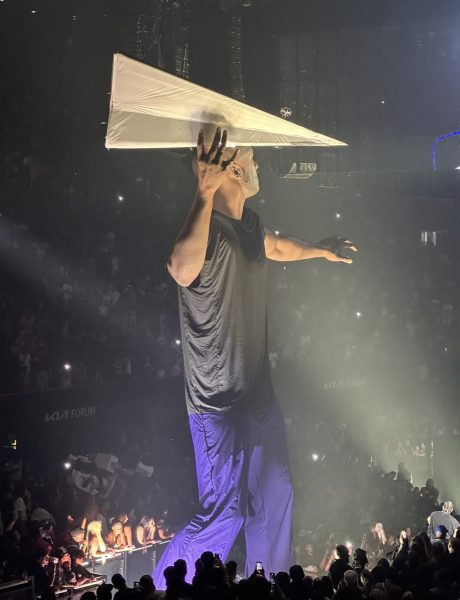 Vuitton fashion show in 2018, which Drake also has tattooed on him.
Despite many props being used, the only prop that stood up the entire show was the Virgil Abloh statue. 
Drake closed his concert by playing a speech from Abloh, and having his fans cheer for him and honor. Drake's closing song was "Legend", and during this song he came closer to the crowd to make the moment more intimate for fans and a memorable moment that they'll forever hold on to.