Netflix Original: "You Are So Not Invited to My Bat Mitzvah" was released Aug. 25, starring Adam Sandler's daughter, upcoming actress Sunny Sandler. The film is a comedy-drama featuring a friendship between middle school best friends, Stacy Friedman played by Sunny Sandler and Lydia Rodriguez played by Samantha Lorraine.During the film their friendship goes through rough obstacles when a certain boy, Andy Goldfarb (Dylan Hoffman), Stacy's crush gets in the middle of their friendship.
The movie takes place at a Jewish middle school where students are preparing for their bat mitzvahs. While planning for their bat mitzvahs this film shows viewers the challenging realities of young teenagers having to face puberty, girl drama, and rumors. 
"It's eye opening and a lot of people can relate to it because it shows the realities that many young boys and girls go through at that certain age," said sophomore Ambar Muralles, when asked about the value she derived from watching the film.
The pain of losing friends is a common one, especially among teenagers who rely on friendships for security. Whether it was over a boy or a girl, a misunderstanding, or the person making new friendships. In the film viewers can see how Stacy and Lydia argue over Lydia kissing Andy, which leads to Stacy ending they're friendship delivering the coined line saying Lydia  is "definitely not invited to (Stacy's) my bat mitzvah."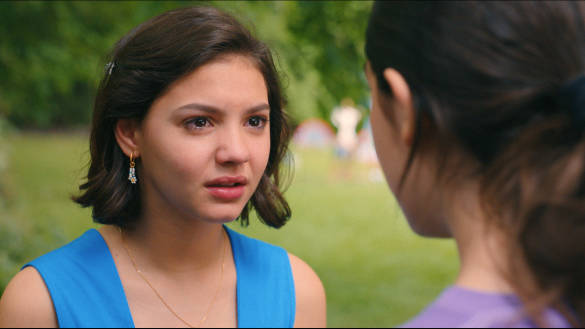 Math and AVID teacher Carolina Gonzalez-Boix expressed her opinion on how Lydia was in the wrong to try to get with Andy after Stacy's crush on him ended. 
"I'm sure at some point someone has done something terrible that they shouldn't have done to a friend which makes them regret it," said Gonzalez-Boix. 
Overall the film shows the importance of true friendship, and how drama can get in the way of someone important you truly care about. Although Stacy and Lydia did separate because of a boy, they come back to each other towards the end, which shows the strong bond of love that they had for each other. It makes the film very bittersweet.