Gregory Emigh says goodbye to teaching and hello to music
Named Teacher of the Year after 23 years of hard work and dedication, Gregory Emigh had devoted a major part of his life teaching English honors and AP English literature. His students mainly consisted of  sophomores and seniors. He also served as an advisor of the Society of Music. This school year Emigh prepares to retire and pursue his passion for music.
Prior to teaching, Emigh worked as a X-ray technician and left due to the job getting repetitive. He pursued teaching and enjoyed it as he was able to build long term relationships with coworkers and students.
Like every teacher, Emigh came across difficulties when he first started his teaching career, mainly connecting with his students. 
"When I was first starting it took me a while to be comfortable in the classroom and really feel like I could get to know my students genuinely and connect with them," said Emigh.
Emigh's success stems from his active and interactive teaching style, as it works best for himself and his classes. 
"For me it's about interaction, and I find more ways around to have a more active, engaging classroom, without that relationship, there can't be any interaction," said Emigh. 
Senior Vanessa Baez took Emigh's class during remote learning and described her experiences and how it affected her learning during online school.
"His teaching style was very engaging, despite having to do work online during quarantine, Mr. Emigh always tried his best to have students work and read together, whether it was in separate groups or as a class," said Baez.
"Mr. Emigh left a very positive impact on my life and stood out as a teacher. He was always patient with his students and everytime I needed guidance he was quick to help me. His patience and respect towards everyone's learning level is unforgettable," continued Baez.
English teacher and Department Chair Ted Moser shared his thoughts about Emigh. 
"He is great to teach with because he is an intellectual, very mellow, but at the same time he is very serious about learning and education, with a very relaxed manner," said Moser.
When it comes to Emigh's retirement, Moser knows he will enjoy it.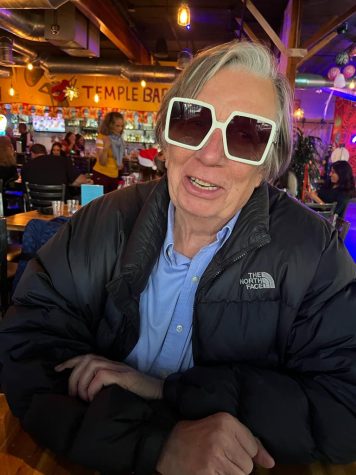 "I am jealous, but I know he will enjoy it and keep himself busy with music and hiking and hanging out with friends," said Moser.
Emigh gave advice to his students and graduates heading to college.
"I want my students to believe in themselves and get to really know themselves. I always tell my seniors two things, first they should learn about who they are and what excites them and they should learn about the world enough so they can combine those things to be successful," said Emigh.
West Covina High celebrates the retirement of Emigh after years of service to our students and the community.