Reading is limitless at Read Across America
Read Across America Day (formerly known as Dr. Seuss day) takes place annually during March, and focuses on spreading diverse literature to children across America in order to promote critical thinking, reflection skills, and tolerance. Its advocacy provides opportunities for younger generations to hone these capabilities and become more positively engrossed with reading beginning at a young age. 
National English Honors Society (NEHS) hosted their 12th annual Read Across America event this past Saturday in the Bulldog Cafe. As an estimated 40 attendees walked through the Lorax tree forest into the cafe, they were gifted superhero masks and capes along with being greeted by Thing 1 and Thing 2, characters from the famous children's book "Cat in the Hat". The cafe was filled with decorations of popular children's book characters like Rainbow Fish from "The Rainbow Fish" by Marcus Pfister and Clifford from "Clifford the Big Red Dog" by Norman Bridwell. 
Multiple stations were present for children to make arts and crafts while simultaneously incorporating them with themes relating to popular children's books. Reading sessions were held in 20 minute increments to which children would head into a reading room filled with balloons as they listened to renditions of selected children's books such as "The Biggest Story" by Sarah Coyle and Dan Taylor as well as "The Book Without a Story" by Carolina Rabei.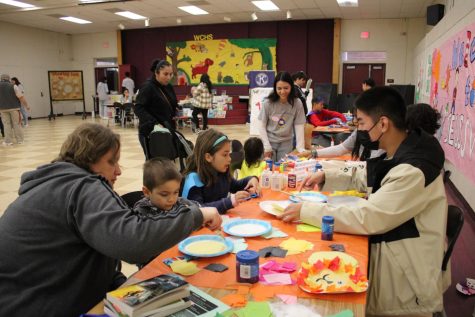 Stations included crafting Froot Loop necklaces, paper puppet book characters, gardening, creating personalized bookmarks, coloring, and creating their very own paper pet fish or lion. A face painting station was included to which many of the attendees indulged in, as the event ended in an overall success. 
NEHS Vice President, Karina Gonzalez, explains why NEHS holds Read Across America Events annually and its overall goal.
"I think it's really important just to keep reading alive. I think sometimes media has really changed us and we're just constantly on our phones. It's really important to spread that reading to our children," said Gonzalez.
She also explains how the process of the event also nurtures nostalgia towards the real magic of literature, to which she says, "In the process we are reminded of what it was like to sit down and read a book, what that  innocence was like, what it was like to sit down and color… just like really keeping that kind of magic alive."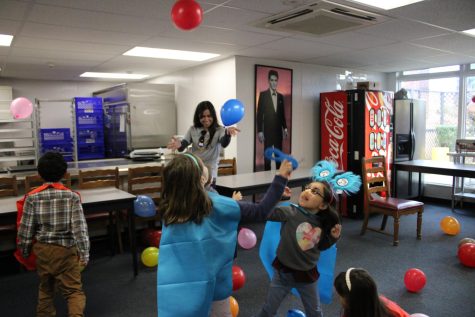 The event was entirely planned and run by West Covina High School NEHS club members, making it not only impactful for the families who attended the event, but also for the club as a whole as they foster other skills that they will take with them as they grow older. 
"It's important because it just reminds them to give back to the community. That there are volunteer opportunities to connect with children and put themselves in their shoes of when they were kids and when they were interested in reading. They can walk away from the event knowing that they did something good for someone else and to keep doing that for the rest of their high school career," said Gonzalez.
Members also contacted outside resources such as community organizer Brad Manning for support towards the event. Each child was granted the privilege to take home multiple free books as alongside donations from members, multiple boxes of book donations were gifted by the Kiwanis Club, a nonprofit organization. Volunteers and representatives of the West Covina library were also present courtesy of Manning's assistance. 
Members of the West Covina library, which has been closed down for over two years due to the COVID-19 pandemic, also gave out free books and prizes. Library staff member Stephanie Morales shared the significance of promoting literature to younger generations alongside the library's temporary closing.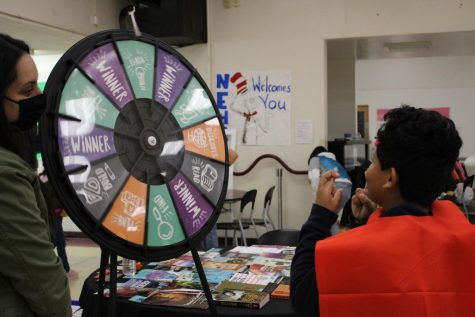 "It's important to promote reading to children because that's where creativity comes in and imagination- a book can lead you in so many different ways to open up your mind," said Morales.  
NEHS continues to make an effort in order to spread the lesson that reading does not always have to be a heavy task to shoulder. Despite age, reading has no limitations and is meant to be interactive, fun, and simplistic. 
The club will continue to uphold their traditions of spreading literature as they make their way to West Covina High School's annual open house, 1609.