Painting her legacy: Four decades in the making
Can you imagine spending almost four decades in the educational field? For art teacher Cathi Julien, this is her reality. The 2022-2023 school year marks her 37th year in the teaching profession with this year teaching art with experiences from both Edgewood and West Covina High School. For some, teaching for that long can be overwhelming and repetitive, but for Julien, who's always had a strong love for teaching, feels the opposite.
"It has kept me upright, and all of my friends that are my age have been retired for some years and complain about the aches and pains they have and say life is so tough. Well, for me I don't think life is that hard, it gives me a reason to wake up in the morning, every single day," she said.
According to Julien, art is something that everyone could enjoy. If students don't feel the love for painting, they can try clay, drawings, and even pottery. As she explains, art has many components; anyone can find enjoyment at any level.
"Your ability, your physical ability, or mental ability, there's something for everyone. Maybe you don't like drawing, but you haven't tried painting yet. Maybe you didn't like painting but you haven't tried clay yet. So there's something for everybody," Julien said.
She continues to feel excited about teaching and does not want to stop any time soon.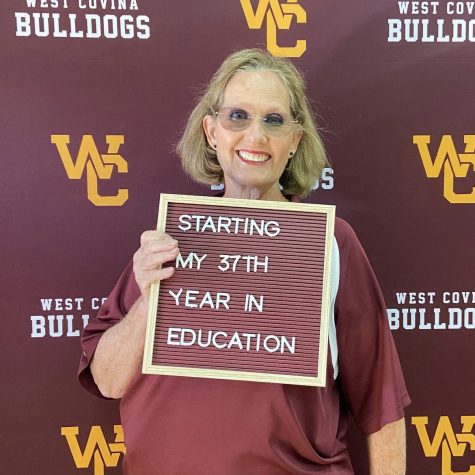 "Art is an entirely different ballpark from other subjects like math and English and I get to teach it, so I love my job and never want to quit. Ever. Although at some point I probably shouldn't be climbing ladders or hanging stuff on the ceiling, so maybe that will be my time to go," she said.
When Julien first started teaching, right after college, it was different than it is now. She explained the current generation's challenges.
"Different challenges happened, I remember there were challenges with the dress code, such as boys keeping their hair cut so they didn't have lamb chops, which was huge in the '60s, also kids protesting and cutting up the American flag and making pairs of pants out of them," she said.
Julien does not view herself as the "perfect teacher" that the teaching program prepared her be. The way college prepares one to be a great teacher can be very idealistic and she didn't realize at the time that being a perfect teacher would be doable in a perfect world, but where she is, not all of it would be applicable for her to do.
"It's certainly something to strive for, but you need to not feel like a failure when being a perfect teacher is not going to work. When I first started teaching, we didn't have as many challenges in the classroom and different levels of kids," she said.
The most complex challenge that Julien still faces is being able to convince students and encourage them to go after their dream.
"They're afraid to express it. They don't think it's ever going to happen for them. I just feel that encouraging them is sometimes a real challenge because I don't think they all believe in themselves," Julien said.
Not only does Julien teach art, but she also works at Disneyland. She explains that Disneyland helps her balance her life in and out of the classroom.
"I feel like it's a really good balance. When I feel very frustrated about the way things are here and an average day in the classroom, I can walk down there and see teenagers doing exactly the same things, but I see it with a fresh set of eyes and realize, okay, it's not just me. It's not personal," she said.
On the other hand, I can be there and see some people and think, oh, man, am I glad I have kids I got at West Covina," she continued.
Juggling two jobs, teaching is something she feels deeply about and doing both helps her realize that West Covina High School is her home away from home.
"You get kids from everywhere and you come back and you say, you know, I just want to give everybody here a big hug because I know sometimes I'm hard on you, but you know what, this is my family. So you're really my people, I expect more of you and I think the two jobs working with kids at both jobs keeps me in balance," Julien said.
Julien is worried about the next generation of teachers because she knows that throughout the years, the high number of teachers who quit or change their major in education is because their emotions are alarmingly high.
"I'm just worried about the next generation, being afraid of going into education, they're seeing all the negative side of it, but what I have to say to them is roll with it. There's always that one sweet kid that makes you think to yourself, that's the reason I get up tomorrow and come back. That one kid that doesn't even know they made my day," Julien said.
Another piece of advice she has for newer upcoming teachers is to have some faith that things will change and evolve.
"So many young teachers are terrified that they're expecting all these kids and parents to be horrible. Even administrators are horrible. It's not and I think they just need to have faith and expect change, expect evolution, it's going to happen," Julien said.
With 37 years of teaching and counting, Julien continues to do what she loves and is not going anywhere anytime soon.