Breaking Deftones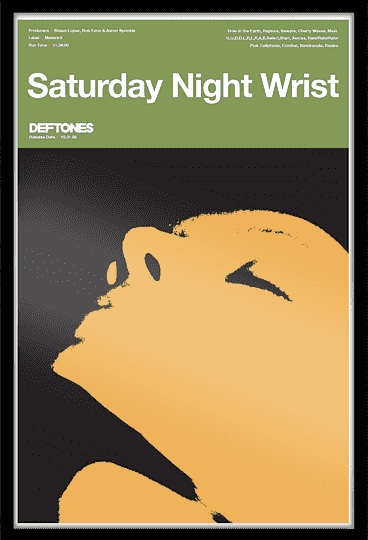 16 years ago, alternative metal band Deftones released their fifth studio album "Saturday Night Wrist." Although this album had mixed reviews from both fans and critics, it's considered one of their most daring and risk-taking albums because of the band's decision to experiment with different genres during a time when they were becoming very popular writing and recording solely alternative metal songs. 
Deftones is categorized in many different genres, but they are most known as an alternative/nu metal band and a shoegaze band, similar to other popular bands at the time such as Korn, Limp Bizkit, and Linkin Park. In the early 2000s, Deftones showed they could write raw, aggressive, and loud songs, and this album proved they could combine both psychedelic shoegaze and heavy metal. Songs on the album like "Hole in the Earth", "Beware", and "Cherry Waves" are great examples of this. Other songs like "Rapture" and "Rats, Rats, Rats" were heavy sounding guitar-based songs that stuck true to the band's original form of songwriting. 
"Saturday Night Wrist" was popularized as the album that almost broke up the band. This was due to many issues occurring during the recording process such as messy breakups, financial problems, and lack of communication. An example of this was lead vocalist Chino Moreno leaving to tour with his side project band Team Sleep, during the early stages of writing the album. This put a huge strain on the band as well as caused a lot of tensions. Chino Moreno even addressed this conflict in the lyrics to Hole in the Earth, "I hate all of my friends, they all lack taste sometimes, this is the end, I´m out."
However, at the end of the recording process Deftones stayed together and released this record on Halloween 2006.
¨Saturday Night Wrist¨ is one of my personal favorite albums from this band, because of the musical production as well as the overall sound the band produced throughout the whole record – from collaborating with other popular artists at the time such as Serj Tankian of System of a Down, to working with different producers to take their creativity in a different musical direction. The way the band combined heavy rhythm beats and loud aggressive guitars with beautiful melodies and atmospheric/fantasy based lyrics was something the band had popularized. 
Overall, I would rate this album a solid 8/10. I gave it this score because two of the songs were instrumental songs with no lyrics and I felt that they were unnecessary. However, I can still appreciate the musical side of it. Those songs were rushed and could've been better used on another album. However, "Saturday Night Wrist" remains one of my personal favorite albums from the band Deftones, and I highly recommend giving it a listen.