AFJROTC honors veterans and reintroduces program instructors
Air Force Junior Reserve Officers Training Corps (AFJROTC) hosted their 17th annual Veterans Day ceremony assembly during fourth period in the gym last Thursday. Unlike ceremonies before that had a specific theme and a guest speaker, this ceremony was more uniquely personal; students, staff, and the community learned more about JROTC instructors Captain (Capt.). Jesus Acuña-Perez and Master Sergeant (MSgt.) David Moroyoqui's experiences in the military and about the JROTC program at West Covina High School.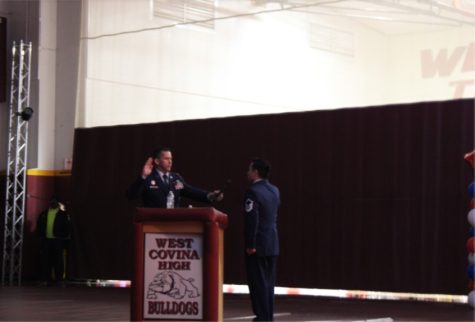 In previous years only juniors and seniors attended, but this year underclassmen were also able to take part in watching this event.
The ceremony started with the Wescovaires singing the National Anthem, cadets presented the military branches' flags such as the U.S. Marine Corps, Air force, Navy, Coast Guard, and Space Force, followed by speeches from both instructors. Cadets then performed The POW/MIA Missing Man Table ceremony by lighting a candle for those who served and are not with us anymore, as well as sabers presented for all veterans to walk through.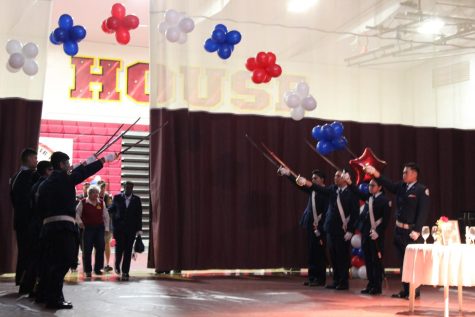 Capt. Acuña-Perez shared his story about being born in Tijuana and growing up under difficult situations. He wanted more out of life and found this through the Air Force, during which he was able to "see the world" as his father advised him to do.
MSgt. Moroyoqui, from Bakersfield, CA, shared how his first Air Force deployment led him to his love of being in the military. 
"I could not shake that feeling of going to a place, of performing a service and helping people and going back and getting back to society," he said.
Both instructors shared how the Air Force changed their lives and hope to positively impact cadets through their experiences.
AFJROTC will continue to honor veterans on this commemorative holiday for years to come.