Reuniting with our passed loved ones
Dia de los Muertos, also known as "Day of the Dead" is a Mexican holiday usually celebrated on November first through the second in which the inevitability of death is accepted rather than feared. It is believed that the passageway between the real world and the spirit world is open so our deceased loved ones can come back to visit us. 
Dia de los angelitos starts Nov. 1 first at midnight, where the spirits of children who have passed are to be reunited with their families for 24 hours. On the following day, Nov. 2 at midnight is Dia de los Difuntos where the spirits of adults are reunited with their families for 12 hours. At noon the next day is Dia de los Muertos in which all spirits are to come back to the real world to reunite and celebrate with their families.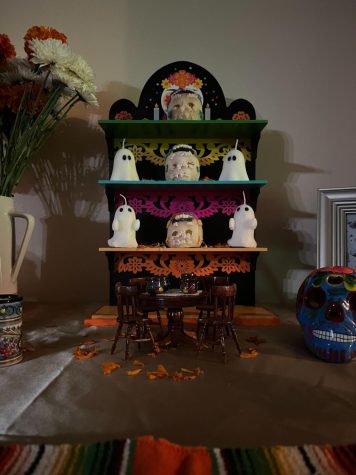 Days leading up to the holiday, families make ofrendas (altars) in their homes, which are meant to commemorate the lives of their loved ones. An ofrenda consists of things that identify their passed loved ones like photographs, meaningful belongings, and favorite foods. Other staples of Dia de los Muertos such as papel picado, pan de muerto, sugar skulls, marigold petals and candles whose strong scent and bright light help to guide the soul are also put on the ofrenda.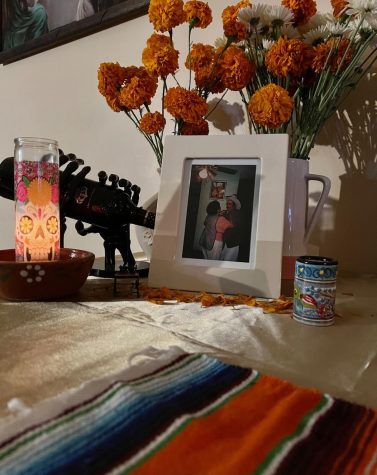 Dia de los Muertos is one of the most celebrated holidays in Mexico; families clean the graves at cemeteries, send prayers and leave offerings, preparing for the spirit to come. On the night of Nov. 2 they take food to the cemetery to attract the spirits and to share in a community celebration. Bands perform and people dance to please the visiting souls. 
Over the recent years, Día de los Muertos has become my favorite holiday of the year. I love the amount of comfort it brings me and getting the chance to reminisce about my grandparents with my family as a whole. 
In my family, days leading up to Dia de los Muertos we create an ofrenda in order to remind them that we still remember and love them, as well as a trail of marigold petals and candles leading to the ofrenda in order to guide them. We decorate the ofrenda with pictures of my grandparents, candles, marigold flowers and petals, and sugar skulls. We also buy some of their favorite items to place on the ofrenda such as coffee, coke, their preferred alcohol, and cigarettes.
On the second and final day of Dia de los Muertos my family and I usually make a few of their favorite dishes in memory of them. We all eat together, listen to their favorite music, and share stories or memories that we had with my grandparents. Now that I am older, I understand the actual meaning of this day and the importance it holds to not only my family, but to Mexican culture and tradition.