Cure Club and Calligraphy Club collaborate to support cancer patients
In support of Breast Cancer Awareness month, West Covina High School's Cure Club and Calligraphy Club designed handwritten cards for the City of Hope's cancer patients. During Oct. 12-21, the collaborating clubs created opportunities to make handmade cards. They held workshops on Oct. 12-13, and 17 during lunch. Members from both clubs and those who wanted to participate earned one hour of community service for each card they produced.
Calligraphy Club President, Rachel Leon, explained what traits and resources Calligraphy Club has to contribute to this event.
"We have the materials and we can teach people how to make quality cards for patients who need it at this time," Leon said.
The partnership between Cure Club and Calligraphy Club attracted more participants and therefore more cards. Both dedication and knowledge from each club worked together in order to spread awareness and reach their card goals.
Participants created cards with impressive fonts and decorations with words of encouragement. From simple catchphrases to inspirational words, all cards expressed a heartfelt message dedicated to recipients.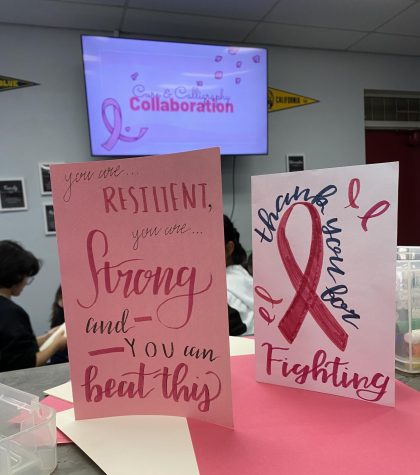 Cure Club President Alexia Chinn explained her choice to donate cards to cancer patients.
"I think it's more meaningful because the more time you put into it, it shows the amount of effort and a way to support them," Chhin said.
The event resulted in about 50 cards. Each decorated card found its way to a patient, spreading its abundance of care and positivity.