Role as a cheer captain
Cheerleaders have a busy schedule throughout the year due to cheerleading being an all year commitment. The different parts of cheer you can join are sideline, stunt, and competitive cheer. Due to all of these teams existing, being a captain means taking on plenty of extra responsibilities.
The West Covina cheer team has three captains: Ciara Valadez, Illeana Olivares, and Layla Jimenez. These captains all work together and lead the team to be their best every day.
There is a lot of pressure being captain. With having to maintain a 2.5 GPA, deciding what the team is going to wear, and being a role model for the younger girls on the team by showing them how they can execute a specific skill, it can be a high bar to reach. These expectations are just a small portion of the responsibilities these girls have taken on.
"We set the example for the rest of our team and the rest of our peers, so we're really held up to a standard," said Jimenez.
Game days play an important role for the three captains. They are the ones who decide what to yell out for cheers during specific parts of the game. They have a list of chants to call out depending on the play and if the football team is on offense or defense. Other roles they have during game day are leading the team to the field, taking attendance, and staying back to clean up after the game.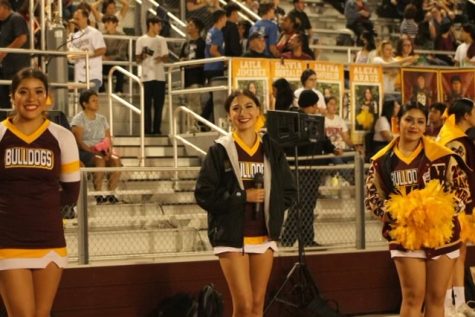 During practice they don't stick together but instead separate to help the team.
"At practice we have to be lifting everyone up, even if we're not feeling the best," said Jimenez.
They regularly give tips and advice to the younger team members when they're approached with problems and talk to their coaches to find solutions to problems that arise.
"We are like the mom of the team, we have to take care of everyone on the team," said Olivares.
Captains are responsible for team morale and having positive attitudes in and out of uniform is essential to keeping team spirit high.