Opinion: Let us spat
Athletes on the football team have started "spatting", which is the process of using white tape to tape ankles in order to help prevent sprains, twists, and breaks. Most football players wear black cleats and with mostly white socks so it looks better when the white tape covers as much of the black cleats as possible. As former NFL legend Deion Sanders says, "If you look good, you feel good. Feel good, play good." Athletes tend to perform better when they feel good mentally. 
If taped correctly, the tape will come off with a tool that athletic trainers use known as a "shark" that is meant for cutting fabric and tape. Although it helps to prevent injuries, it will also make knees a key point for injury.
"The chances of you getting hurt with taped ankles goes up about 5% to 10%," said Varsity Football Coach Mike Maggiore. 
Players on the varsity football team received news from WCHS' athletic trainer, Adriana Ramirez, that they will no longer be allowed to spat, leaving athletes to wonder why. 
"Football players should avoid spatting, which is using athletic tape on the outside of their shoe because if they were injured in a game it's going to be a lot more cost efficient or an issue with time when trying to get the injury because you can't really evaluate an injury with a shoe on so it's going to cost us time in an emergency that could be detrimental," said WCHS athletic trainer Adriana Ramirez.
"Another thing that in a high school I may have to cut off the shoe and in high school, some families don't have the resources to replace the shoe," continued Ramirez.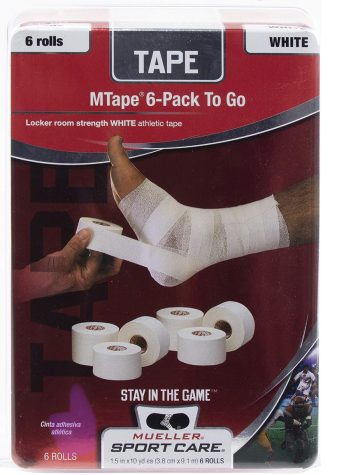 Players on the varsity team are frustrated they aren't allowed to spat because it gives them a sense of relief that they are doing what they can to prevent an ankle injury. While it may take the risk of ankle injury away, however, it raises the chance for knee injury, and players who spat feel that they are willing to take the risk.
"I feel like I should be able to spat. It's my body. If I'm willing to take the risk then I will," said Varsity player Robert Rodriguez, junior. 
In the end, the team can take Ramirez's professional advice as an athletic trainer, but players and their parents ultimately act in the best interest of their player when it comes to spatting and should be able to continue doing so.