Welcoming new teachers to Bulldog Country
Here at West Covina High School, many new teachers were recently introduced. For some, starting at a new school full of new students and staff can feel overwhelming, but despite this transition, these new teachers felt very welcomed into Bulldog Country.
Troy Beverly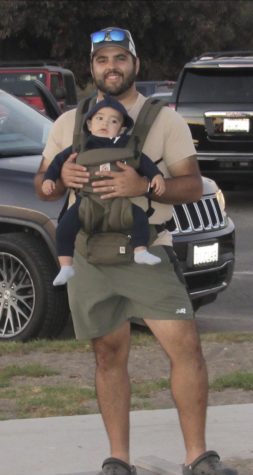 Troy Beverly teaches English I and II in L-25 and feels great about this year at West Covina High School. Beverly has always wanted to be a teacher and saw this as an opportunity to give back to students. Putting them on the right path for graduation and to help students the same way teachers helped him when he was in high school.
English was Beverly's first choice; he was very happy to be in a classroom teaching the subject he loved the most in high school. He wants his students to know that he is very understanding and here for them. 
"I'm easy going, I try to get along with everyone as much as possible. I want them to understand that I'm here for them, that they are going to learn, and whatever is the best way to learn is the best way for me," said Beverly.
Adam Taylor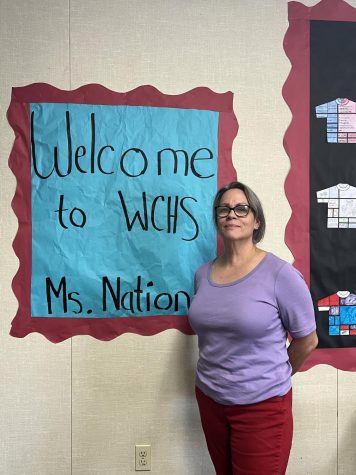 Adam Taylor is new to teaching this year. He teaches financial algebra for seniors and math IB for sophomores in C-6. Like any
new teacher, he had some nerve-racking feelings coming in. 
"I think the first week I was really nervous, especially the first day. I tried to play it cool, but it was definitely a challenge. Every day it gets easier," said Taylor. 
He never planned on being a teacher, but liked the idea of teaching and getting to be a coach for frosh (freshman/sophomore) baseball for WCHS. His goal for this year is for everyone to get a little better, even in subjects other than math. 
Sarah Nation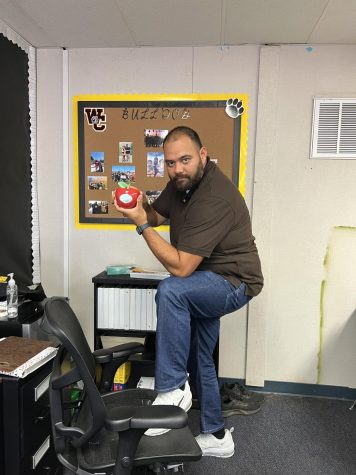 Sarah Nation teaches world history for sophomores and directed studies, which is a study hall for students that need that extra
push. She teaches freshmen and seniors in L-13. However, this isn't her first time teaching, but her first time teaching in a high school. Nation taught at Cameron Elementary School for four years and moved to WCHS. The transition from elementary school to high school was something new for her. 
"It's actually pretty exciting, I wasn't sure at first but this is really cool. I'm working with a lot of different students and different subjects so it feels really good," said Nation.
Nation loves teaching and education. For her, going to school was something she looked forward to, and she hopes to try to give students a chance to share the same love of education as her.
Joe Carrillo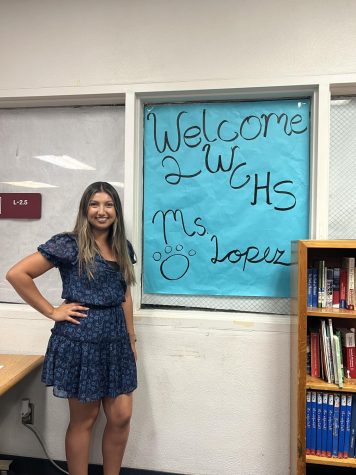 Joe Carrillo teaches directed studies in W-3, Before teaching, he coached JV football for six years. Now that he has started teaching, students love to spend time in his class. Starting teaching for him felt great. He felt like he jumped right into the role with no problems. Carrillo chose this profession because of how much a past teacher impacted his life.      
"I had a really good mentor/coach/teacher in high school. When I finished football my senior year I didn't know what I wanted to do, and he really invested in me as a person. That really opened a lot of doors for me," said Carrillo. 
Carrillo wants to make that same impact on his students that his mentor did for him. He expressed his excitement to really get into a classroom, for whatever subject was available. He wants his students to know that he is an open and honest person and if they need to talk to him about anything, he is always going to be there for them. 
Cecilia Lopez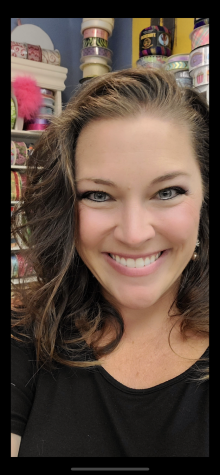 Cecilia Lopez teaches Spanish I and II in L-2. Lopez moved from the Walnut Valley Unified School District to the WCUSD. Entering Bulldog Country has been a great experience for Lopez. 
"I feel very welcomed by other teachers out of my department. If I need help or just ask me how my day is. It feels like a family, even in this short time," continued Lopez.
Lopez chose this profession because her friend explained that the teaching credential deadline was coming up and something inside her told her to apply.
"Something really spoke inside of me that if I didn't apply for the teaching credential, I would regret it, so I went ahead and applied one week before the deadline and I got it," said Lopez.
She wants her students to know that as long as they keep making a consistent effort, they can meet whatever goals they set. 
Marcy Hail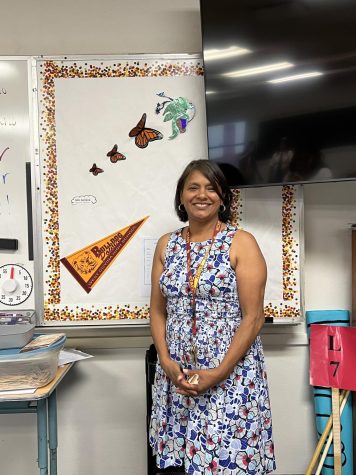 Marcy Hail teaches culinary arts for all grades in D-4. Hail used to teach home economics for ten years but after budget cuts, she transferred to West Covina High School. Along with her profession, she has owned her own catering business with her husband for 15 years. Her goal for this year is to try new things with students.
"I think just trying new things with the kids, I really enjoy having them try new recipes they find online like TikTok and Pinterest because for me, experimenting with food just makes you so intoned with abilities you have and what foods you like," said Hail.
Hail loves to teach students how to do things that they don't already know how to do like cooking and show them that it's not as hard as they might think.
She wants her students to know she enjoys different hobbies, like traveling, and has two kids. 
Gabriela Serrano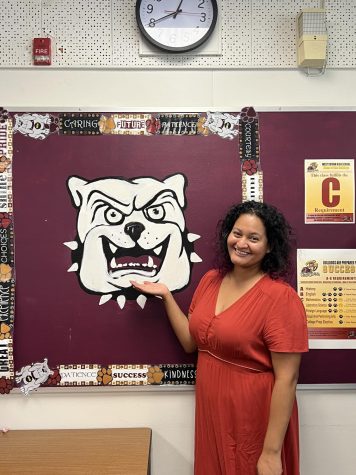 Gabriela Serrano is another Spanish teacher joining Bulldog Country. Serrano teaches Spanish l and ll in L-7 and feels being at WCHS is very rewarding and welcoming. She knew she was to be a teacher from a young age. 
"When I went to school for the first time, my teacher really impacted my life. I learned so quickly with her and also her demeanor and the way she presented to us… I said to myself, 'That's what I want to do, I want to make an impact,'" said Serrano.
Serrano's goal for this school year is to get familiar with the school; she also feels very strongly about getting to know her students and understanding how they learn.
"Most important is to get to know my students and work with them. I want to be able to understand their qualities, and skills and work with the strong aspects that I get to know," continued Serrano.
Serrano wants her students to know that if you put your mind to something you can do it. It might take a while to get to that step but you will eventually get there. She will give a little piece of herself to get the best out of her students. 
Rosalyn Reyes 
Rosalyn Reyes's first day here at West Covina High School wasn't like the rest. She teaches Math l and ll in C-7, but began teaching two weeks after school started. Adjusting for her has been a little difficult, but she still feels optimistic about teaching as a whole. 
"It's barely my first day so I'm just trying to go with the flow for now, but it's going to be a big adjustment since the students don't know me very well but so far it's been really fun, like having a rally my first day, it made me remember my time in school," said Reyes.
Reyes chose this profession because she always liked her teachers and wanted to make a difference in students' lives. She also thinks it's very fun to teach. Her goals for this year include getting to know the campus, her students, and the teachers so she can be fully a part of the West Covina campus. 
As these new teachers begin their journey, Bulldog Country will continue to support them throughout their years here.