The New Fresh Quarterback: Chris Perez
Many people are surprised to hear that the West Covina High School's Varsity Football team has a freshman quarterback, Chris Perez.
Perez got into the sport when he was six-years-old. He got into it by watching college football with his dad which intrigued him and soon after his dad signed him up.
Perez played on the West Covina Bruins Football team where Coach Mike Maggiore would go to his games and support him. 
"He always went to my games, checked up on me, and texted me to see how I was doing," said Perez.
During his 8th grade year, Perez would go to the teams seven on seven practices and Saturday practices, which the coaches then had an eye out for him. Perez found out he was going to be starting before the team's scrimmage game.
 "Coach Maggiore pulled me to the side and said you're going to start. I was excited, but nervous at the same time," said Perez.
His biggest motivation for playing is his grandpa who he watched play growing up. "When he died I really wanted to carry the legacy of him playing," said Perez. 
Being a freshman on varsity he feels like he has to prove himself extra hard, but tries to focus on himself. To get into the right headspace he goes to the gym and sits by himself to think and relax. Some songs he listens to to get in the right headspace are Rod Wave and NBA YoungBoy. 
Perez sometimes gets unmotivated to play, but he fights through it so all his work pays off.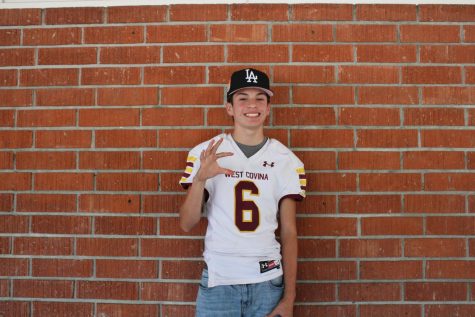 "I get in my head almost every day but I have to keep going," said Perez. 
Although he has his struggles, the rest of the varsity team is always there to support him. "They accepted me and now they're all my brothers," said Perez.
Perez has been playing football for most of his life, so finding the fun in it is very important. "The fun of doing something right, knowing all of your assignments, and being a team player is all rewarding when you get success," said Perez.
Perez is going to be on the West Covina football team for all of his high school years. "I'm really excited for what the future holds," said Perez.