My experience as a tattoo artist
"Humans have marked their bodies with tattoos for thousands of years. These permanent designs—sometimes plain, sometimes elaborate, always personal—have served as amulets, status symbols, declarations of love, signs of religious beliefs, adornments and even forms of punishment," said Joan Fletcher, researcher of archaeology at the University of York in Britain on the history of tattoos.
Tattoos display many different emotions and experiences a person may have felt or gone through, and can always be used in remembrance of someone special to you.   
I, Carlee Macias, freshman here at West Covina High School, have been tattooing ever since I could hold a tattoo machine. 
My dad, Carlos Macias, introduced me to tattooing because he is a tattoo artist. About 10 years ago he opened his own tattoo shop in Azusa called Cryptic Tattoo. I practically grew up in my dad's shop, always drawing or sometimes even tattooing someone. My dad taught me everything I know, such as holding the machine, setting up a station, making a stencil, different line work, shading, and cleaning up the station.
I did my first tattoo when I was around two years old, and they were all done on my dad's best friends with his help. Then later on at around 4, I had tattooed one of my dad's friends by myself and just did some scribbles on his leg. He loves his tattoo and still talks about it till this day, but later over the years, I lost some interest in tattooing.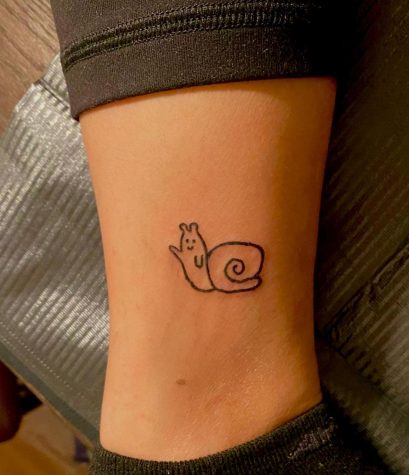 I had lost interest because I never thought of tattooing as a profession or something that was actually fun to do. Over quarantine I went to his shop a lot and began getting interested in it again. My dad gave me my first and only machine and I use it all the time. 
Most recently, I tattooed at a Friday the 13th event at my dad's shop and I did around 15 tattoos that night. I "stole" my dad's work space and was tattooing all night long. I do plan to do more events later on like one in Long beach alongside my dad as well as famous tattoo artist Em Scott. 
For me, tattooing is a way to get away from the world and just let the machine move. Tattooing can be hard, but with time and lots of practicing it can get easier. I want to continue tattooing in my future, but I also plan to go to school and get a degree. Despite that, it definitely is a fun thing to do as a hobby.