Goodbye, Dr. D'Errico
In recent and sudden news, students and staff have been informed that Principal Dr. Ryan D'Errico will be leaving his position at WCHS. Families initially received this information March 24 in a letter addressed to the students. 
"It is with a heavy heart that I announce that I will be leaving my position as your Principal effective April 22, 2022," D'Errico wrote. "It is time to find a new leader here at West Covina High School."
D'Errico came to WCHS in 2018, two years before the COVID-19 pandemic started. Since then, he took into his own hands to create Bulldog Boost days, days where students have extended lunches and can play games on the quad, to boost staff and student morale. He has also been an active presence at school events like 1609.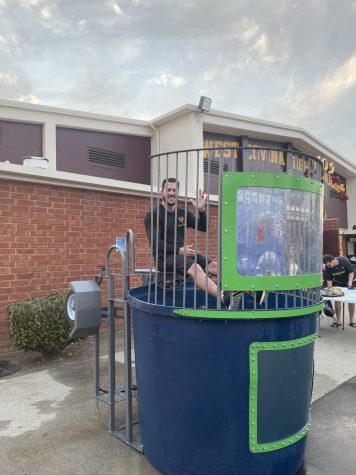 Rumors of what D'Errico's next career have been buzzing around campus, such as suggestions that he may be leaving to work at a private school or to sell insurance. With a vague mention of a private sector in his goodbye letter, staff and students were left with a lot of unanswered questions. 
In an interview with Bulldog Media Group, D'Errico stated that the next step in his career path will be a sales management position in the construction industry, which is the "private sector" previously mentioned in his letter. Construction and sales management are definitely a different field than he's used to, but that doesn't seem to deter him.
"I don't have a lot of experience in construction. I'm be the first to admit so there's going to be a lot of learning going on in my world, nowhere near the world of education. But I'm excited for this opportunity that has presented itself, and I think that I'm going to be ready for it," D'Errico said.
The idea of leaving wasn't easy either. D'Errico shared how attached he had become to WCHS life.
"I still wrestle with that idea of leaving, just because I've had such an amazing experience being accepted into the Bulldog family, really, honestly humbled by it from the staff and the students. And so it's always a struggle, still, to the idea of leaving. I mean, this is what I've dedicated my life to doing and I've found so much from it and so I still haven't even hit the point where I'm like, it's really sunk in than I am actually leaving," he said.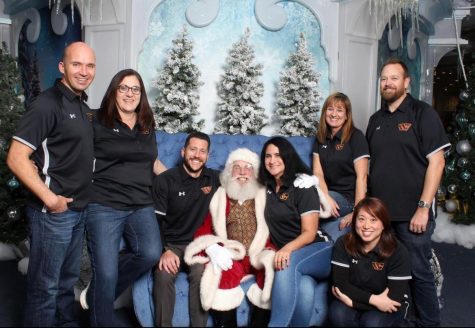 If he enjoys campus culture and life, then why is D'Errico leaving? The primary reason for his departure is to be able to spend more time with his family.
"Family has always come first to me, I was raised that way and I truly believe in that," he said.
"That has lent into a great problem, which is really just time. It has become a kind of juggle playing dad, and so I've hit a crossroad where in order to do this job and to do it the best I can, I was sacrificing some time with my boys and their passions," D'Errico continued.
With news of his sudden departure, different reactions quickly swept campus. Students have even asked why D'Errico couldn't leave after the end of spring break, which he did provide an answer to.
"It really came to the position I previously mentioned in the industry of construction, the position had already been open for about six to seven months, and they were getting to the point where they needed to fill that position. So I really faced a kind of, you know, decision to make – either I accept this position and this opportunity that I've been kind of analyzing over the past few months or I have to pass on it," he said.
With that, D'Errico came to his final decision. 
Administrative staff were some of the people D'Errico spent most of his time on campus with. Assistant Principal Dr. Spurley spoke of his time on campus working with D'Errico.
"He's been here and it's definitely changed the culture of the school and so I think he'll be sorely missed. Definitely somewhat of a mentor of mine and I appreciated learning under him this year," Spurley said. 
Assistant Principal Rick Ortega, expressed his gratitude for D'Errico.
"I think everyone's miss him. We all learned a lot from him. We just wish him the best for him and his family," Ortega said.
From administration, to some of D'errico's closest colleagues, students and staff are also disheartened to hear the news about his departure.
Senior Mackayla Olivas enjoyed D'Errico's time here as principal and was shocked by the news.
"I feel a bit saddened that he is leaving because he has been here since my freshman year, but I hope he enjoys his next career," she said.
Dance teacher Andrea Franco is hopeful for who will lead WCHS next.
"Whoever it is better get ready to see who we are and what we're about. I wish Dr. D'Errico the best with his new adventure. It's sad he's leaving right before the end of the year, so we won't get to celebrate a full year of us coming back from distance learning, so yeah, I mean, it's bittersweet, but like I said, I wish him the best in his new adventure, his new position, his new role in the job that he got," said Franco. 
Principal D'Errico has changed WCHS for the better, whether it be inspiring students to be the best they can, or uplifting the school's spirit, he will be sincerely missed. Students and staff are all optimistic for the future of WCHS and wish D'Errico well.
Following his departure, Assistant Principal Melissa Garcia will be stepping in as interim principal until a permanent replacement is appointed. Although Garcia could potentially remain principal if chosen for the job, it is currently unclear who will be the next principal. 
"Whoever will come in his place will have some big shoes to fill," Spurley said.