New superintendent makes her way to WCHS
New superintendent Dr. Emy Flores spoke to English Language Development (ELD) students today in the MPR. Dr. Flores began her journey at West Covina on Jan 24. Prior to her position at WCUSD, she worked as a superintendent at the Evergreen School District in San Jose. She has worked in this career field for over three decades and hopes to continue serving for many years to come. 
ELD students had the opportunity to get to know Dr. Flores as she shared how she got into the position she is in today. She is an immigrant who came to the United States with her family from Guatemala when she was nine years old. 
Growing up under difficult circumstances in Boyle Heights, Dr. Flores always found ways to persevere. 
"I had to learn English and through that I faced bullying. Not knowing what was going on was very difficult, but with time I was able to master it," she said.
She spoke of her struggle and ability to overcome the hardships in her life as something to inspire others. 
"Life happens for me, not to me," she said to students.
Despite coming to a new country with no knowledge of how to speak English, she was able to learn and eventually received her bachelor's degree from University of Santa Barbara, her master's degree from Cal State Dominguez Hills, and her doctoral degree from University of Southern California. 
"I have been very blessed, but also worked very hard," Flores stated.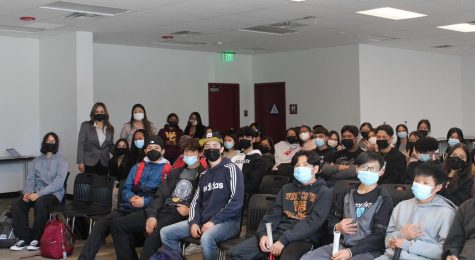 Dr. Flores touched base on what she plans to change for the benefit of WCUSD. Having been a superintendent at Evergreen, it gave her the experience to understand different school districts, how they work, and what students may need or want. 
For WCUSD she shared that she intends to "work together with teachers, support staff, and community members in developing programs that will inspire every single child to maximize their potential." She spoke about her passion and intention to achieve excellence for all students in this district to ensure that this and they are her priority.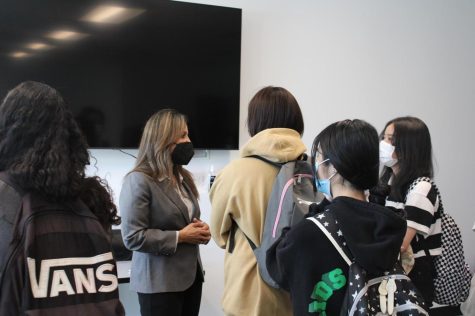 After introducing herself, many had the chance to have a conversation with her and share their thoughts about her. 
"As someone who came from another country like us, she does make me feel represented. It's cool that she made time for us," Sophomore Alejandra Vilche said.
Flores shared many personal stories that can benefit students throughout the whole district. As a woman who is a person of color and an immigrant, she struggled with aspects in life that in today's world, many can relate to. 
"You have to find the strength to know that you are made for great things," said Flores. "We are perfectly imperfect." 
She encouraged students to go after their goals and expressed that "no matter what challenges you find, you got to find it in you to achieve them." Advice she gives to WCUSD students is to "maximize on your potential and have a vision for what you want."
Dr. Flores is an inspirational and hardworking woman who truly cares for students and staff. Her passion to want to make a difference is motivating and WCHS looks forward to seeing her achieve her goals and effect positive changes.