Bulldogs battle Charter Oak despite minimal subs
The boys varsity team faced Charter Oak Chargers this past Wednesday for their second league game of the season. They battled an intense game, but came up short in overtime. 
Before the game, Coach Isaac Valdovinos stated that he was very nervous about this game due to having very few subs. 
During the first half, Bulldogs tried to keep the ball up the sides away from the middle field as the Chargers had possession of the ball and continued making aggressive plays.
Charter Oak made many goal attempts, but goalkeeper Hector Frausto with a total of 10 saves, kept the score tied 0-0 throughout the first half. 
Coach Valdovinos switched up the plays at halftime by telling players to quit playing long ball and to keep the middle tight, he encouraged the player to play with more aggression to match the Chargers.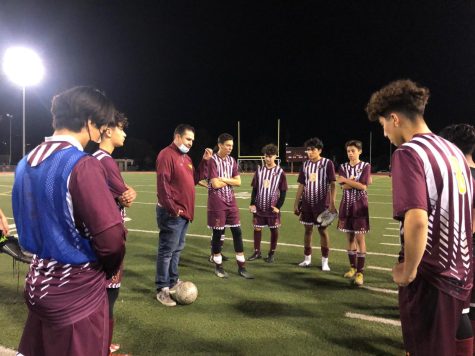 There was more intensity going into the second half as the Bulldogs gained more possession of the ball, leading to a lot more back and forth between both teams. 
After a couple of minutes into the second half, Charter Oak gained possession of the ball, making a shot into the goal and changing the score to 1-0. Left mid Thadeus Torres headers the ball and makes it into the goal, tying the game 1-1.
The game became more aggressive with two different fights almost breaking out between the teams. Coaches and Bulldogs spectators, mostly parents of the players, were yelling at one of the referees due to multiple poorly missed calls against the Bulldogs. 
Overall, big plays included center defensive mid Oswaldo Flores with a sliding save to stop the momentum of Charter Oak's possibility of scoring a goal and having many more saves. 
With the score still tied at 1-1, the Bulldogs went into overtime. League rules now require an extra 10 minutes of overtime if the game ends in a tie. Much like the end of the second half, there was more back and forth between the two teams. 
Charter Oak eventually scored, ending the game with a score of 2-1. 
"We as a team could have done better; we slept at the end. Everybody gave it their all but in the end, we just slept," Senior Co-Captain Christopher Alvarado said.
The exhaustion was due to the lack of subs available on the bench. "In the last ten minutes, we were already gassed out," Senior Co-Captain Marcos Catalan said. "We could have done better; the coach felt that we could have put in a little bit more intensity."
The Bulldog's next home game is Jan. 19 against the Covina Colts.