When Basketball Legends Collide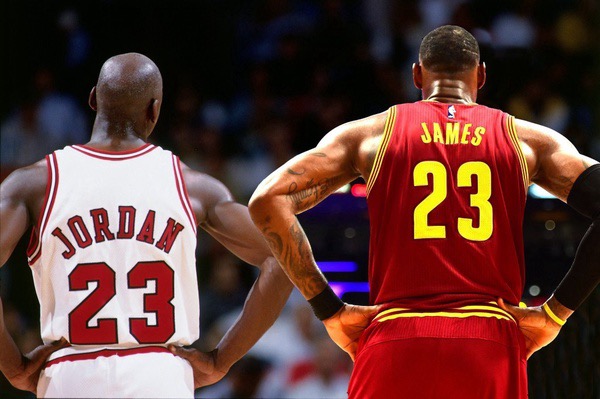 Basketball, a popular sport around the world created in 1891, has been around for 130 years and its most popular league, the National Basketball Association (NBA) has been around for 75 years. This league has seen incredible players and generational talents we will never see again. Players like Earvin ''Magic'' Johnson, Shaquille O'Neal, Wilt Chamberlain, Kobe Bryant and Kareem Abdul-Jabbar dominated the court in their times and cemented themselves as basketball and sport icons. With all these talented players over the years, people argue about who is the greatest player of all time. Two names are always mentioned at the top of these heated debates, Lebron James and Michael Jordan. 
Lebron James, who entered the league in 2003 right out of high school, was an immediate impact with his team, winning Rookie of The Year in 2004. A few years later, young Lebron led his Cleveland Cavaliers team at 23-years-old to the NBA finals in 2006 where they were no match for Tim Duncan and the San Antonio Spurs. After seven years in Cleveland winning two MVPs in 2009 and 2010, with no championship success, he took his talents to South Beach to try and win his first ring. He then played four seasons for the Miami Heat where he won two more MVPs in 2012 and 2013. Finally, he won his first rings going back-to-back in 2012 and 2013. He then headed back to Cleveland to win his third NBA championship, coming back 3-1 against the Golden State Warriors in 2016. He went to play for the Los Angeles Lakers in 2018 where he won in 2020 to claim his fourth title. 
Michael Jordan, who was drafted in 1984 by the Chicago Bulls from the University of South Carolina, won the Rookie of the Year trophy in 1985. Three years later, Jordan won his first MVP in 1988 and would get another one in 1991. According to NBA.com, the Chicago Bulls team would three-peat in 1991, 1992 and 1993. Jordan went on to win his third MVP in 1992. He then retired for two seasons to play baseball, but it didn't work out so he returned to the court in 1996 when he picked up where he left off and won MVP. He then continued with another three- peat in 1996, 1997 and 1998, winning his fifth MVP as well in 1998. 
When these two NBA legends are compared side to side, their career accolades are mentioned heavily as they should. Jordan has six NBA championships with six finals MVPs and five regular season MVPs. James, on the other hand, has four NBA championships with four finals MVPs and four regular season MVPs. It's not only championships and MVPs that matter; career stats also play a big role in the discourse about who is the greatest. Jordan has averaged 30.1 points, 6.2 rebounds, 5.3 assists, 2.3 steals and 0.8 blocks throughout his NBA career which was 14 years. Lebron James averaged throughout his career 27 points, 7.4 rebounds, 7.4 assist, 1.6 steals and 0.7 blocks in his career which is still going strong at 19 years in the league. Their overall career totals are very different. Jordan has a total of 32,292 points, 6,672 rebounds, 5,633 assists, 2,514 steals and 893 blocks in his career. King James has a total of 35,367 points, 9,752 rebounds, 9,696 assists, 2,063 steals and 982 blocks in his career. 
After comparing these two career accolades and totals, the greatest player of all time is Lebron James. Michael Jordan changed basketball forever and is considered a cultural icon across the globe and his Jordan brand is one of the biggest in the world and changed the streetwear game as its product can go for thousands, but even with two more championships and one more MVP, as well as being the biggest star of the world in his time, his overall skills don't match Lebron James. Though Lebron has two less championships and one less MVP he beats Jordan in almost every category in basketball with more points, rebounds, assists, blocks and is closing in on Jordan's all time steals. This is due to Lebron's longevity in the NBA where he has performed at the highest of levels for 19 years, being the best player year after year. Lebron is currently third all time in points scored and is looking to take the number one spot in the coming years which is 38,387 held by the great Kareem Abdul-Jabbar, a record nobody thought anyone could break. Some say Lebron needs to win more championships to pass Jordan as the greatest, but if we're talking greatest player ever, Lebron has his rings and his numbers are far better than Jordan. Furthermore, Lebron is not even close to being done and is still looking to be even greater than what he already is. 
All stats from NBA.com.
Leave a Comment