A Teacher's Care: Ms. Alvidrez
BY LINA SHAHSAVARI
High school teachers play an important role in a student's life in and out of school. They prepare students for college and adulthood and also help them grow into responsible and mature people. They can teach students a variety of subjects such as math, science or even a new language.
Meet Ms. Alvidrez, West Covina High School's spanish teacher. Ms. Alvidrez has been teaching for twenty years, so she is very familiar with the language and campus.  She teaches multiple grade levels and also different advancements of Spanish for both native and beginning speakers. She chose to teach Spanish because she "…loves Spanish" and thinks the language is very romantic and beautiful.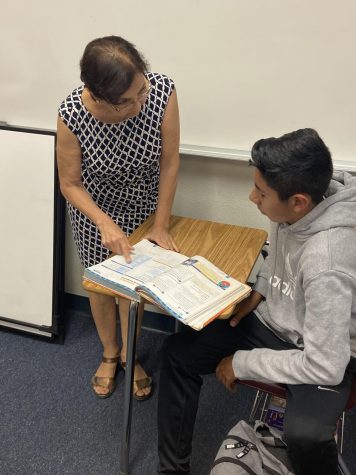 She chose to become a teacher mainly because she enjoyed teaching kids and she "wanted to choose a profession that made happy." Furthermore, Alvidrez wishes her students knew that she "cares for them" and "wishes the best for them". She also wants them to know that she is "there for them, whenever they need ." She is a dedicated teacher that is willing to help students whenever they need it. Rewarding as it is, Ms. Alvidrez wants to see her students grow from their beginning stage of Spanish learning and take it to new and more advanced levels of Spanish-speaking. Influencing students to grow into more fluent Spanish speakers, she believes that becoming comfortable with the popular language allows for more cultural growth all around.