The Man Behind Fist-Bump Fridays: Mr. Lorenger
Walking into a class with a disco ball, interesting decoration, and a teacher who gives you a fist-bump on the way in: an experience one can only get from Mr. Lorenger's class. 
BY VIVIAN GOMEZ
Spending almost half of his life working at West Covina High School, Mr. Lorenger prides in his career that he does something he loves for a living. Over the 23 years, he considers what he does "not a job", but "part of life." He acknowledges the staff and community, referring to them as family, rather than just co-workers. Heartfelt, he reminisces meeting his wife, Mrs. Lorenger, upon working at West Covina. From there, his mother and father-in-law both taught here as well, in addition to his cousin, Ms. Kajikawa. Both figuratively and literally, Lorenger is surrounded by family wherever he goes.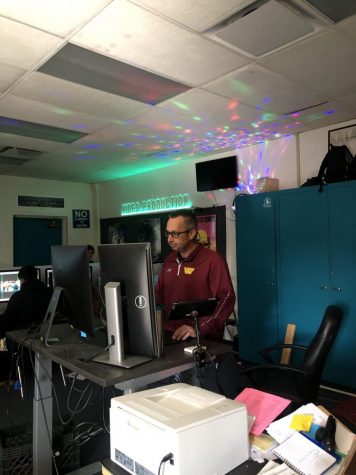 Outside of the classroom, Lorenger enjoys going golfing, surfing, and most importantly, hanging out with his 3 kids. Constantly providing support for them, he coaches his son in baseball. Furthermore, he does also take 2 of his kids to karate. He says that he always tries to get in as many father-daughter dates as possible, since "they grow up fast."
Say the name, and you'll get students recalling his wits, dad-jokes, and puns. Lorenger provides an experience and energy unlike any other place on campus. Currently teaching video production, graphic arts, as well as advising Bulldog News Network, or BNN, he is constantly working wherever he goes. However, if there is one thing students should take into account, he says that they should "find something they love, so it never feels like work." He's always hoping to get more youth interested in the field of video and graphic arts. However, bigger than that, he claims, it's about finding a hobby they love. Moreover, Mr. Lorenger is a teacher who leaves a legacy wherever he goes, especially within the bulldog community. Everyone who gets the opportunity to take his class praises him, because he makes it a good time. Most importantly, you feel the support, drive, and motivation he encourages students to have, and will remain a notable figure throughout the campus for years to come.
"
What do you call a bear with no ear? A B."
— Mr. Lorenger
Leave a Comment