Movie Review: The Lego Movie 2: The Second Part
BY ISRAEL MALDONADO
Certified fresh at 91% Rotten Tomatoes, The Lego Movie 2: The Second Part, is the continuation of the first Lego Movie deemed to be a lightning in a bottle and surprising many. So how can a follow up be just as good or better than the original, without making it seem as if it was simply created for the money?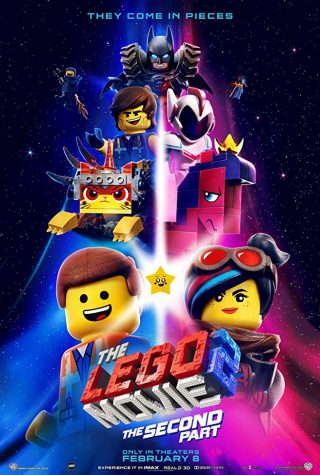 This continuation picks up right where the previous had left off: the Duplo invasion. Therefore, Emmet Brickowski, the scared, doesn't fit in type of guy, must act quick and rush to save his captured friends. The Lego Movie 2 reuses many concepts of the first in the series, making it unoriginal, yet enjoyable at the same time. The whole idea of a person who does not fit in and must find a way to save his captured friends from the enemy has already been told. Due to this, it confirms that this followup is inferior to the previous film, because of its lackluster of new concepts. Which may explain why The Lego Movie 2 bricked at the box office or, perhaps making only $34 million on its debut which is significantly less than that of its predecessor, is because people are becoming tired of Lego-based movies, since there has already been three before this new film.
Although, one of the reasons The Lego Movie 2 is rated so high, is the much likeable protagonist voiced by Chris Pratt. Disliking Emmet is like disliking Miles Morales in the sense that Emmett is a funny person trying to do as much good in the world as he can, meanwhile having tons of laughs and fun. Furthermore, The Lego Movie 2 succeeds by leaning into the self-aware cheeky humor that made the first movie so enjoyable. It isn't exactly perfect, though it is funny and appealing to both children and adults, regardless of the ridiculous plot, much like the first. This sequel is more than worth seeing, the returning cast is clearly having a blast with voicing their unique characters. Everyone ranging from 3 years old to 70 years old will watch this movie with a great smile across their face.