Movie Review: BlacKkKlansman
BY JULIA SANTANA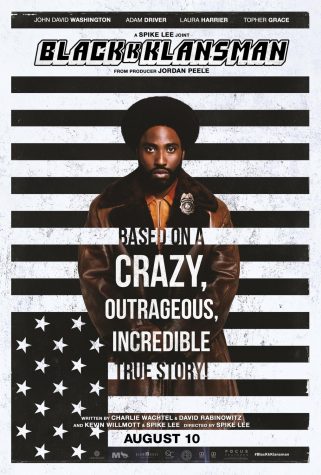 Director Spike Lee's latest "dramedy" blockbuster BlacKkKlansman, follows the story of the first  Black man, Ron Stallworth, who joins the Colorado Springs police department in the early 1970s and undergoes an investigation on the Ku Klux Klan, a secret society of white supremacists fighting for the "cleansing" of all minorities and for prosperity of whites in America.
Stallworth starts off as a rookie officer and convinces his boss to lead an investigation to stop the KKK after feeling unchallenged working in the department's record center. Upon agreement, Stallworth is forced to go undercover as a White supremacist and infiltrate the Klan. During this time, Stallworth has several phone conversations with Klan members and even speaks with David Duke himself, the Grand Wizard of the KKK. Portraying Stallworth in person, Flip Zimmerman goes to Klan meetings to provide insight on attacks that the Klan might be planning against the Black Student Union Of Colorado College and eventually becomes an official member.
Connecting the past to the present, BlacKkKlansman does a great job at informing its audience of the recent history of the Ku Klux Klan and white supremacy in America, a concept that most people may limit to the pre-civil rights era. The film realistically depicts America's discriminatory past and how this racism did not end when slavery or segregation did, but still follows everyone into the 21st century. With hate crimes as recent as the 2015 Charleston church shooting and the "Unite the Right" white supremacist rally in 2017, BlacKkKlansman only continues the discussion of how current and widespread this issue is, and how it isn't going to get resolved unless those with the capability to resist take action.