Movie Review: Avengers: Infinity War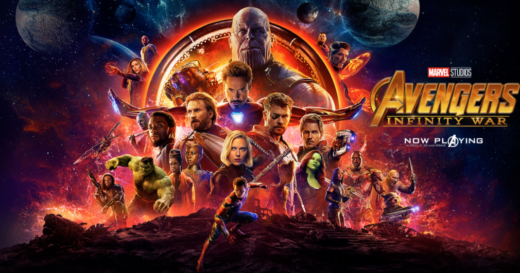 BY DANIEL GASTELUM
Marvel has yet again brought another adrenaline-filled and action packed movie to the big screen. One of the biggest superhero movies of the century, Avengers Infinity War, came out on April 27 and was rated PG-13. The cast of Avengers Infinity War includes Chris Evans (Captain America), Josh Brolin (Thanos), Chris Hemsworth (Thor), Robert Downey Jr. (Iron-Man) Scarlett Johansson (Black Widow), Mark Ruffalo (Hulk),Elizabeth Olsen (Wanda), Benedict Cumberbatch (Doctor Strange), Tom Holland (Spider Man), Chris Pratt (Star lord), Paul Bettany (Vision), Chadwick Boseman (Black Panther), and the Directors Anthony and Joe Russo.
Avengers: Infinity War starts off with Thanos, the main villain, who goes on a hunt to find all 6 Infinity stones (Power, Space, Reality, Soul, Time, and Mind Stones).The stones together have the power to wipe out half the population throughout the galaxy. All the stones are placed in different locations and whoever possesses these stones will not give up without a fight. The avengers find out about Thanos' plan and will use all their power to prevent it from happening.
The film had served a great amount of a entertainment and had an amazing cast and crew. Marvel has planned out some movies such as Doctor Strange, Guardians of the Galaxy, Thor, and the few Avengers movies that all led up to the Infinity War. This movie felt so planned out and was as if they knew exactly what would be happening and how they would play it out. I really loved the way they portrayed the story. This movie contains a lot of action and leaves you on the edge for almost the entire movie. I was really proud of Marvel for directing this amazing movie they made come to life.