Movie Review: A Wrinkle in Time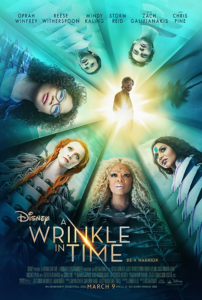 BY DANIEL GASTELUM
The new Disney movie A Wrinkle in Time had fans excited to see how they've made the book come to life on the big screen. The movie came to theatres on March 9 and the film is rated PG. The cast of the movie is Oprah Winfrey (Mrs.Which), Reese Witherspoon (Mrs.Whatsit), Chris Pine (Dr.Alex Murry), Mindy Kaling (Mrs.Who), Storm Reid (Meg Murry), Rowan Blanchard (Veronica), Levi Miller (Calvin O'Keefe), and Deric McCabe (Charles Wallace).
The movie starts off with Meg and her little brother Charles Wallace who have been without their father, Mr. Murry, for five years. He discovered a new way to travel the galaxy called the Tesseract, but in doing so he got lost in time and space. Joined by Calvin O'Keefe, one of Meg's classmates, they go on on a mission to save Meg's lost father but in doing so they will have to learn how to trust and help each other to save Mr. Murry.
I really love how much time they put into the movie, the scenes, and the special effects. Although the special effects were a little overwhelming in almost every scene in the movie having special effects.The beginning of the movie has a lot of funny one liners but then after about half of the movie the scenes felt almost too serious to be a good movie. The action, love, and trust shared among the characters make this a good movie.
3.5 out 5 stars