Movie Review: A Quiet Place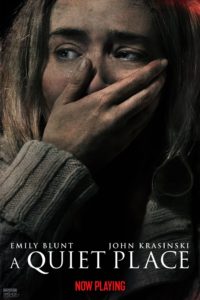 BY MIKEL ESCOBAR
Are you into the frightening moments and intense noises in scary movies? If so, the movie A Quiet Place could be the movie for you this spring. The movie was released on April 6 and directed by John Krasinski. Krasinski was also a character in the movie along with his wife Emily Blunt as Lee and Evelyn Abbott.
There were many lessons for the audience that were portrayed in the movie. For example, it revealed how important love is in a family and the sacrifices some will make for others. It brought many emotions upon the audience who was watching the film too.
For about the first 20 minutes of the movie, there was no sound of conversation but only sound of nature and the faint noises of walking. When you would watch the movie, you would hear the crunching and crinkling of snacks and wrappers that the audience had. Eventually, the movie gets suspenseful and people drop their snacks to see what would happen next.
The film was still very good even though it was a shorter movie than normal. Reviews have been up on it too, with IMDb giving it 8.2/10 stars, Rotten Tomatoes giving it 96% fresh, and the income has been over 50 million dollars. Personally, I agree with others that this was an amazing movie giving it 10/10 stars.