Book Review: The Fault In Our Stars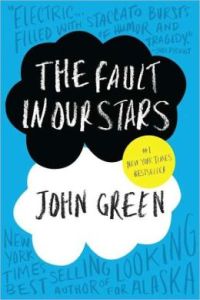 BY ANGELICA QUINTANA
The book "The Fault In Our Stars", abbreviated to TFIOS, written by John Green, has got the attention of many teens. The author, John Green, is known for his well written novels, such as "Looking For Alaska". It has touched the hearts of many because of the plot line of two star crossed lovers, and it has you in tears at certain points in the book.
The story begins when the main character, Hazel Grace Lancaster, who was in stage 4 of her battle with thyroid cancer, amd is forced to attend a support group for teens living with cancer by her mother. Her protective mother pushed her to join the group to "make some friends" or make her life worth living while she still can. She bumps into Augustus Walters, and when she talks about his fear of oblivion towards the group, he knew she was something special. Little did Hazel Grace know that she would fall in love with him "The way you fall asleep, slowly, and then all at once." The book takes you along their journey as the boy's amputated leg and the girl who's lungs don't work. Of course, problems surface for both Augustus, who is in remission, and Hazel Grace, who is still fighting cancer. These problems never interfered with their love for each other, but there is one thing that changes everything, but you'll have to read it to find out.
Teens and young adults around the country and possibly the world have fell in love with TFIOS due to it's emotional appeal, the humorous and sarcastic dialogue, and not to mention, who the characters are. Cancer and other diseases have claimed the lives of many, who still had a life to live. This is a story of the life Hazel Grace has to live, and for those who are diagnosed with cancer, this book hits home. It is relatable for those battling cancer and for those who knows someone that is fighting or fought cancer. It also gives a perspective for those who haven't been exposed on the affects, and gives awareness. The book is described as "A blend of melancholy, sweet, philosophical, and funny. Green shows us true love…and it is far more romantic than any sunset on the beach." said New York Times.
The fantastically written book is soon to be turned into a movie, and the trailer has recently been released. The movie is planned to come to theaters on June 6, 2014, so be sure to read the book before the movie comes out!