Cafe Donuts and Smoothies local deliciousness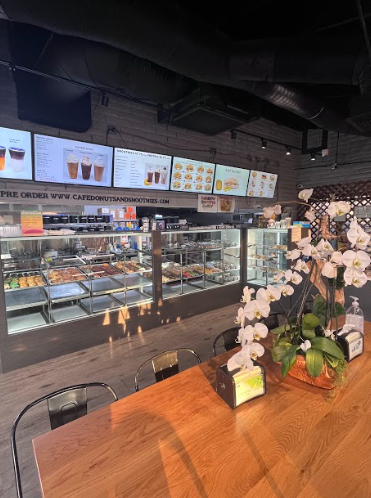 Looking for a new spot to hang out with friends and family while enjoying a wide range of delicious freshly baked goods of choice?
Cafe Donuts and Smoothies is a donut shop located in West Covina that has been established for over 20 years. They serve a variety of different pastries and drinks to customers.
Cafe Donuts and Smoothies is a well organized business with excellent goods and service. The donut shop is easily accessible to customers because they offer dine-ins, takeout and delivery. 
If you choose to dine-in, the cafe provides indoor seating that is well centered, clean and organized. There are also multiple windows that allow for natural light to enter, creating a vibrant environment for customers to enjoy.
Cafe Donuts and Smoothies offers delicious and different flavored fresh donuts. Some of the donuts they offer are classic glaze, chocolate and sugar donuts. They also offer old fashion donuts such as jelly filled donuts. 
If you're also looking for a savory option, their menu includes various kinds of sandwiches, such as ham and turkey sandwiches, or sausage, egg, and cheese. 
Cafe Donuts and Smoothies also provides many coffee options such as blended, iced, and hot. They also provide a variety of flavors of teas, slushies, and shaved ice.
Cafe Donuts and Smoothies is located at 405 E Merced Ave in West Covina.