Most Inspirational Teacher 2018: Ted Moser
BY MICHAEL ESPINOSA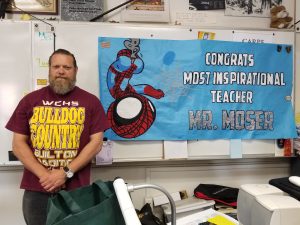 During the last rally of the school year, English teacher Ted Moser was recognized for being the Most Inspirational Teacher of the Year. Moser was not expecting this, but had somewhat of an idea that he got nominated from a banner that was left on his door, which caught him by surprise, but he still took it as it a compliment. Moser  finds all the other teachers inspirational to him; it was an honor getting this award.
"He's an excellent teacher a great role model. He's always calm and we all want to be like him," English teacher Kim Whitten said.
Back when Moser was trying to get his career going, he did not plan on becoming a teacher. He started to substitute when he was in grad school because he needed a job. When he was in high school. he did not like it but figured he could take his experience with good and bad teachers as a student and become better. He has learned a lot from teachers.
"He's very different from other English teachers. He finds a way to keep his students engaged and enjoying his class with him as a teacher. I've never enjoyed an English class more than with him," senior Daniel Lopez said.
Moser has been working as a teacher at WCHS for 23 years and subbed for five years. Before that, he spent one year teaching at Edgewood Middle School. He especially likes working with seniors finishing high school and watching them move on to their next chapter in life.
"The students are fun. They are always interesting and it is enjoyable when you get them to like something they think they are not going to like," Moser said.