The Flavors of the Holidays
BY KAITLYN GOMEZ
T'is the season to enjoy holidays with family and friends sitting together drinking hot beverages. The holiday season is here, and so are Starbucks featured drinks for the winter weather Let's also not forget about the packaging that never seizes to amaze us! Some of the featured drinks were Snickerdoodle Hot Cocoa, Toffee Almond Milk Hot Cocoa, Gingerbread Latte, and one of their classics Caramel Brulee Latte.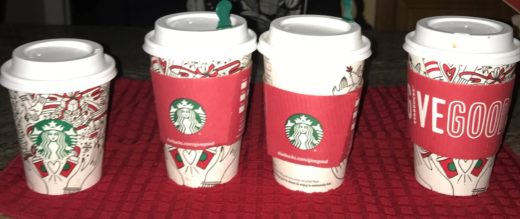 The first drink that I tasted was the Toffee Almond Milk Hot Cocoa. The ingredients that were used to create this drink are toffee syrup, mocha syrup, steamed almond milk and finally topped with whipped cream and caramel. This drink had a very apparent nutty flavor and very smooth texture. It is perfect for those who want to enjoy a holiday drink without being restricted if they are vegan or vegetarian. Despite this, it is limited to people who are, of course, not allergic to any types of nuts.
The second drink was the Snickerdoodle Hot Cocoa. The ingredients in this drink are cinnamon dolce syrup, white chocolate mocha sauce, steamed milk, and  topped with whipped cream and cinnamon dolce sprinkles. This hot cocoa had a very sweet taste and hints of cinnamon in every sip. To all the sweet tooth people and the white chocolate lovers, this cocoa would be right for you.
Let's not forget about those coffee lovers! The gingerbread Latte was one out of the many in the holiday themed drinks selection at Starbucks. This latte consisted of options of a shot of espresso or decaf, gingerbread syrup, steamed milk, and topped with the casual whipped cream and an addition of nutmeg powder. This drink has a very strong coffee flavor with small amounts of gingerbread.
The last coffee drink  is the classic caramel drinks that can never go wrong. This one in particular is called the Caramel Brulee latte that has much more caramel flavor than your average Caramel Macchiato. This has shots of espresso or decaf, 2 percent milk, and topped with whipped cream and caramel brulee sauce. This is perfect for the caramel lovers who may not like the other featured drinks.